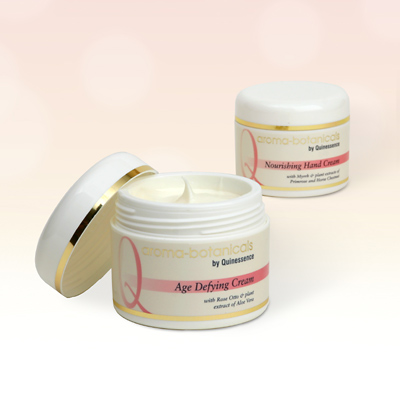 Age Defying Cream plus FREE Hand Cream
To help you in the continuing fight against the credit crunch, this Special Offer brings you two items from our highly acclaimed skin care collection - and one of them is totally Free!
We will give you a 30ml jar of Aroma-botanicals Nourishing Hand Cream absolutely FREE when you buy our Award-Winning Age Defying Cream 50ml!
Voted outright winner of 'Best Day Cream' in the Natural Health Beauty Awards, the panel of beauty experts described Aroma-botanicals Age Defying Cream as:-
'An excellent value-for-money daily moisturiser. Light and delicately scented it combines extracts of organic English Lavender and Rose Otto oils, together with Shea Butter and Aloe Vera to help plump up skin and protect against free radical damage'.

* Age Defying Cream 50ml
Hold back the hands of time with this revolutionary cream that melts into your skin, delivering essential nutrients to preserve a soft, youthful and radiant complexion.

* Nourishing Hand Cream 30ml
The Aroma-botanicals range Nourishing Hand Cream contains oils of Coconut, Myrrh and Elemi, plus soothing botanicals of Primrose and Horse Chestnut to soothe and deep-condition. This nutrient-rich combination promotes smooth, supple hands and provides effective protection against the environment.

And best of all - when you take advantage of this Credit Crunch Buster, delivery is FREE as well!

But don't delay - we have only 75 jars of Nourishing Hand Cream to give away, and when they are gone the offer will end. Claim your FREE Hand Cream now to avoid disappointment.
Buy with confidence – 30 Day Money-back Guarantee
Not tested on animals – learn more
Independent Reviews From Trustpilot ★★★★★
Perfect

★★★★★

20 October 2016

Thank you for your punctual arrangement that helped me a lot. There is no replacement for your products especially 'Lime' and 'Vanilla' in other companies, as the fragrances are clearly different, even the names are the same. I would like to order again.

- Marusore
Highly recommended seller

★★★★★

27 August 2016

Fast delivery, great products, well packaged. Very happy thank you

- Maria Y, Surrey
Product service

★★★★★

23 August 2016

Excellent knowledge and service

- Mrs Perryment
Easy and informative

★★★★★

2 September 2016

I knew what I wanted but discovered other things too

- Nicole
Excellent products

★★★★★

25 September 2016

Bought the pure coconut carrier oil to use as part of my skincare routine, and it's better than any high end expensive cream I've tried. Highly recommended....thank you!

- Fortchie
Very speedy service

★★★★★

26 August 2016

Excellent service. Ordered on-line, delivered the next working day. Lovely good quality oils.

- D Watson