Vaporizers and Burners
Aromatherapy oil vaporisers and burners are available from Quinessence in a choice of styles, including the very latest electric models as well as the more traditional ceramic designs.
Enjoy a totally relaxing experience with this innovative and advanced ultrasonic aroma diffuser that incorporates a mini humidifier, ionizer, air purifier and a beautiful rotating-coloured mood light to create the perfect soothing ambience wherever you use it.

This powerful combination of leading edge technology, the built-in soft mood lighting, and of course, therapeutic essential oils ensures the ultimate relaxing experience.
More Details»
---
This attractive ceramic burner features a timeless, one-piece design that will look fabulous anywhere in your home. The advantage of not having a separate lid means that you won't have to worry about breaking it if is dropped on the floor! More Details»
---
The Aroma Stone from Dezac features a design that is more compact and lightweight than the Original Aromastone. This makes it perfect to take with you when travelling so that you can still enjoy aromatherapy whilst away from home!

Available in Blue or White. More Details»
---
The Aroma Stream has a fan which gently diffuses oils without having to heat the essential oils. A few drops of essential oil are put onto a replaceable pad located at the base of the unit, and the quiet two speed fan gently diffuses the oils into the air.

The Aroma-Stream is supplied complete with 2 pin plug and one spare pad. Further replacement pads are available from Quinessence.

Available in 110 volt supply only. More Details»
---
Classic white unscented Tea Lights in a silver cup, from Colony.

These high quality tea lights are suitable for all types of aromatherapy burners plus a wide range of candle holders. Unlike inferior economy tea lights, Colony Tea Lights burn evenly without smoking or spluttering.

Place them around the house to create accents of light, or group them on your dining table for soft, romantic atmosphere.

Supplied in a Pack of 10 Candles. More Details»
---
---
Search this site
---
FREE Newsletter
Subscribe now to receive expert Articles, Essential oil profiles, Skincare tips, Recipes and much more.
Plus, you will have exclusive access to our hugely discounted Special Offers, Free Gifts and Prize Draws.
We respect your privacy and hate spam as much as you do. We will never sell, rent or share your e-mail address with anyone.
---
---
---
Credit Crunch Busters!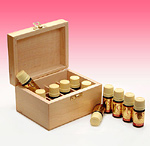 Buy this Essential Oils Collection and get a hand-made wooden Storage Box worth £16.99 - absolutely FREE!
---
Aromatherapy oil sourcing
Discover more about how we source and test every aromatherapy oil for purity by visiting the pages listed at the bottom of every page.