Aroma-botanicals Skin Care Lotions – Reformulated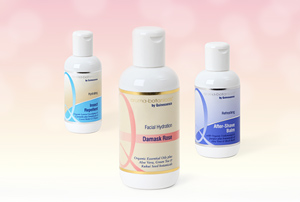 We are delighted to announce the launch of our newly reformulated and re-packaged range of botanically active skin care lotions that now contain even more botanical goodies than ever!
To be honest, we had intended to launch them in Spring, but delays in the manufacture of our newly designed bottle caused a bit of a delay. Still, better late than never!
This rich harvest of natural, plant-based nutrient-rich ingredients provides you with a gentle skincare regime that works in harmony with your mind and body, to bring you beautiful skin – naturally. Not only that, but Aroma-botanicals bring you true, holistic aromatherapy skin care solutions at sensible prices.
So what's new?
Firstly, we have added Cocoa Butter across the whole range of lotions to ensure your skin receives all of the essential fatty acids that are necessary to keep your skin soft and supple. This amazing natural moisturiser creates a barrier between sensitive skin and the environment, helping the skin retain moisture for longer.
Cocoa butter is also a powerhouse antioxidant that combats free radicals and protects your skin from environmental stressors and the inescapable signs of aging. To super-boost the revitalizing effects we've also included Aloe Vera and Kukui Seed Oil which work in synergy with Cocoa Butter to soothe, replenish and moisturize your skin.
More power plants
Another ingredient used in many products is Green Tea extract because it contains Epigallocatechin gallate which is a polyphenol that targets free radicals, especially those caused by ultra-violet light. This natural compound also rejuvenates skin cells that have been damaged by pollution and sunlight.
Other new active botanicals include Birch Bark extract which has been used for centuries to help damaged skin regenerate more quickly, plus Wild Thyme extract which everyone knows is one of nature's finest antiseptics. Tormentil Root is another skin-friendly botanical we've added since it helps to break the cycle of itchiness and scratching and rebalance red and irritated skin.
The reformulated Aroma-botanicals® Skin Care Lotions provide you with everything you need to care for your skin, producing results that you will both feel and see. Remember, no matter what your age now it is never too late – or too early, to care for your precious skin.
Copyright © Quinessence Aromatherapy Ltd 2015