Essential Oils For Healthy Hair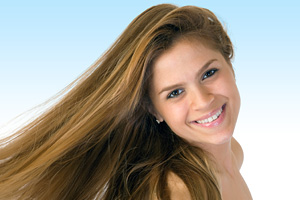 Like skin, your hair is a reliable barometer as to the state of your health and wellbeing.
When you are fit and healthy internally, your skin and hair will reflect this externally.
So if you are suffering from stress, poor diet, or any form of ill-health, your hair will often be the first visible sign that all is not well.
In addition, we abuse our hair on an almost daily basis by frazzling it with hairdryers, heated tongs and rollers, applying harsh chemical styling treatments, bleaches and colourants. And despite what the television adverts of leading brands would have you believe, this damage is mostly irreversible, so is it any wonder we all have bad hair days!
If you want healthy hair you'll need to rejuvenate your flowing locks in a gentle, holistic and natural way. And there are many essential oils that can nurse your hair back to health, it's just a case of knowing which ones are the best. however, if your hair is in very poor condition and has started falling out, read this article on hair loss first.
How essential oils can help
Essential oils encompass a wide range of therapeutic qualities, and because of their versatility they can be used in a dual strategy to improve and maintain the condition of both your hair and scalp. When used correctly, they can strengthen hair, control dandruff, improve condition, and relieve an itchy, flaky scalp – all at the same time in one supercharged treatment!
Some essential oils improve the condition of the hair by actually improving the condition of the scalp, which in turn has a stimulating action on the hair roots. Others work directly on the hair itself to revitalize, strengthen and condition it back to health.
Greasy hair is caused by over active sebaceous glands, and some essential oils such as geranium can help balance this condition providing it's used correctly, and on a regular basis. Remember, the scalp is a living organ and so it must be cared for just like your skin. But unfortunately the scalp is often neglected and abused – and then we wonder why our hair is in such bad shape!
Which brings me to the heart of the matter. To have truly healthy hair you must start with a healthy scalp. It really is that simple. If you look after your scalp, your hair will be much easier to keep in excellent condition. Promise yourself that from now on you will look after your scalp as well as your hair, and you will soon begin to see positive results.
Hair conditioning essential oils
These essential oils all have a direct effect on your hair, so simply choose them according to your particular hair type. The idea is to choose one or two essential oils for your hair type, and then another couple from the list below suited to your scalp type to make a holistic, well balanced, personalised hair treatment.
Here are the best essential oils to condition hair, and the most effective ones are highlighted in italics;-
Normal hair – Geranium, Palmarosa, Lavender, Rosemary, Ylang ylang.
Dry/damaged hair – Elemi, Geranium, Palmarosa, Rosemary, Sandalwood.
Greasy hair – Cedar Virginian, Clary Sage, Cypress, Geranium, Grapefruit, Juniper Berry, Lemon, Lime, Rosemary.
Scalp conditioning essential oils
Scalp problems require essential oils that balance the levels of sebum, treat flaky conditions such as dandruff, or stimulate circulation and cellular metabolism. Increasing the blood supply to the scalp is one of the most important factors to having lustrous, healthy hair.
Choose one or two essential oils from this group;-
Dandruff – Bay leaf, Bergamot, Cedar Atlas, Clary Sage, Patchouli, Rosemary, Sage, Tea Tree.
Normal – Carrot seed, Palmarosa, Lavender, Rosemary.
Itchy scalp – Chamomile Roman, Chamomile German, Helichrysum, Lavender, Spikenard, Tea Tree, Yarrow.
How to use essential oils for healthy hair
Select essential oils from both groups above to match both your hair and scalp type, and add them to a fragrance-free base shampoo and conditioner base that has been specially formulated to work as an aromatherapy carrier. You will need no more than 25 drops in total of your chosen essential oils to every 50ml of shampoo base. Be sure to mix the oils well into the carrier base before use.
For really great results don't stop there; you must add your essential oil selection to a conditioner base too. To add a beautiful shiny lustre to your hair, add a teaspoon of jojoba or coconut oil to the conditioner base too, since these carrier oils are incredibly softening and moisturising to hair. If you don't have either of these carriers you could use sweet almond or whatever carrier you normally use, – they all help put back a little of what the environment takes out of your hair.
Leave your conditioner blend on for at least five minutes to allow the oils to soak thoroughly into the hair and scalp. This will deep-condition and soften your hair in a way that 'off the shelf' leading brand products simply can not do. This is one of the real secrets to healthy hair.
Once you have your very own personalised intensive hair treatment formula the idea is to use this as part of your regular hair maintenance routine. It only takes a couple of minutes to make a batch that will last you several treatments, and you will soon discover which are the best essential oils for your hair and scalp type because you will see the results instantly. Then you can mix up larger quantities that will keep you going for many months.
Use your personalised essential oil formula regularly, and you will have shiny, soft, healthy hair that will be the envy of your friends, and our little secret . . .
Copyright © Quinessence Aromatherapy Ltd 2014. Written by Sue Charles