How To Have Great Hair – Naturally!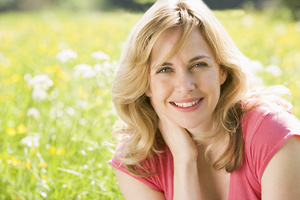 Throughout the year people spend an absolute fortune in an effort to attain great hair that is soft, shiny and healthy-looking.
But is it absolutely necessary that you break the bank in order to achieve the crowning glory you so desperately seek?
Actually, achieving a head of fantastic-looking hair doesn't have to be a 'Mission Impossible', you just need a few common-sense guidelines plus the correct essential oils to put life back into your tired tresses. Put these great hair tips into practice and you'll soon achieve those flowing locks without having to spend a fortune at the hairdressing salon every month.
Head start
The scalp is a living organ that feeds your hair, so to have truly fabulous, healthy hair, you must obviously have a healthy scalp. Unfortunately, the scalp is often neglected and even abused, which can eventually lead to dry and lifeless hair, dandruff, or even hair loss. Look after your scalp properly and your hair will be much easier to keep in good condition, thereby leaving those bad-hair days a thing of the past.
Unless your hair is extremely oily, washing your hair every day is not absolutely necessary, and skipping a day or two between shampoos allows your scalps natural oils to penetrate individual strands of hair thereby keeping your hair soft and shiny, the natural way. That said, dirt is attracted to hair shafts that are coated in perspiration and sebum, so you need to find a compromise according to your hair and lifestyle.
Go natural
When buying shampoo choose a good quality mild one that has a neutral ph balance, and does not contain harsh chemicals such as Sodium Lauryl Sulfate (SLS) or Sodium Laureth Sulfate (SLES). You want to clean your hair and scalp without causing dry skin or damaging your hair, and these aggressive detergents are known to do this, and worse.
To achieve truly great hair, you should always choose a shampoo containing the essential oils known to improve the condition of your hair and scalp, and if it also contains some nourishing botanicals or emollient oils then that's even better. Alternatively, you can add your own essential oils to a fragrance-free professional shampoo base and conditioner base to create a personalized hair cleansing routine that meets the requirements of your hair type exactly.
Essential oils for great hair
Essential oils really can work miracles on your hair because they improve the condition of your scalp as well as your hair. For example, oily hair is caused by over active sebaceous glands, and geranium essential oil can help to rebalance your scalps natural oil production when used on a regular basis.
If you tend to have a greasy scalp, try adding essential oils of cedar virginian, grapefruit, juniper berry, lemon, lime, and rosemary to a base shampoo. A simple blend of lemon, lime and rosemary essential oils is particularly effective, as well as smelling great too! Dry and damaged hair responds well to carrot seed, elemi, geranium, palmarosa, rosemary, sandalwood and ylang ylang essential oils. The essential oils best suited to normal hair types include geranium, lavender, palmarosa, rosemary, and ylang ylang, – and these all smell wonderful too.
If you suffer from a dry, itchy scalp, essential oils of Roman chamomile, German chamomile, helichrysum, lavender, and yarrow can all help to calm and soothe itchiness as well as conditioning the scalp. Dandruff can be particularly stubborn to shift, but cedar atlas, bay leaf, juniper berry and tea tree can all help to alleviate this visibly embarrassing problem.
Cleansing and conditioning
Work your shampoo gently into the scalp, massaging with your fingertips and avoiding scratching with your nails since this can cause damage that may lead to dandruff or a dry scalp. Massaging your scalp will increase blood flow to the follicles and stimulate re-growth, resulting in healthier, great looking hair. After working the shampoo foam through your hair completely you should rinse thoroughly to get rid of all traces.
Next, apply a good-quality hair conditioner containing nourishing botanicals and essential oils to breathe life back into your hair, and I should add that a good conditioner prevents the tangles that can lead to split ends and damaged hair. Leave the conditioner on for at least 3 – 5 minutes to give the active ingredients a chance to work their magic, and then rinse off with cool water, since this helps seal the cuticles, prevents breakage, and produces shinier, more manageable tresses.
Squeeze out the excess water from your hair and gently towel-dry your hair without rubbing too briskly with the towel since wet hair can be easily damaged. Combing through tangled hair whilst it is wet can also result in damage, so use a wide toothed comb and work through your hair slowly, separating tangles out with your fingers.
Drying your hair
Allowing your hair to dry naturally is best, but the fact is most of us simply don't have the time to do this, so using the lowest heat setting on your hair dryer is the next best thing. To avoid burning your scalp or damaging your hair keep the dryer moving continuously. To protect your hair if you use curling irons or other hot styling tools always apply a heat protecting spray, gel, or serum, to shield it from the intensive heat before styling.
Avoid harsh chemicals
Other than protection against the heat of styling, keep the use of holding gels, sprays and other products to a minimum since they can build up a residue on your hair which leaves it looking dull and lifeless. Sometimes this build-up can be difficult to wash out too, due to the waxes and silicones in them. Hair perms and colourants contain harsh chemicals that can put even further stress on your hair, so choose your products carefully and always seek expert advice before buying. Achieving great hair is often about the choices that you make.
Abusing your hair can lead to all sorts of problems, including hair loss. Fortunately, there are several natural hair loss treatments that can help improve the situation. But prevention is always better than cure, so treat your hair with tender loving care – plus your essential oils – and you will be rewarded with a vibrant, luxuriant head of great hair for many years to come.
Copyright © Quinessence Aromatherapy Ltd 2016. Written by Sue Charles