How To Make Your Tan Last Longer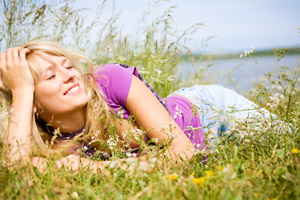 The last few weeks have seen the UK experience heat-wave conditions that culminated last week in the longest stretch of temperatures exceeding 34C since records began in the 1960s. Whew!
After the long lockdown many people are now able to get outdoors to enjoy the wonderful revitalizing and healing rays of the sun.
Being out in the sun is one of the best things about summer, especially in the UK where we often experience little sunshine. But we also know that too much sun is the main cause of wrinkles, age spots and general skin aging, yet we still want to enjoy the benefits that the healing rays of the sun can bring.
The healthy glow of a summer tan always makes us feel better, but above all else we must look after our skin and sunbathe safely and responsibly to avoid skin damage. So how can you do this and make your tan last longer?
Prepare for your tan
The secret to a safe and long-lasting tan is preparation plus adequate protection to avoid sun damaged skin. If you don't prepare your skin properly in advance, your hard-earned bronze aura will start peeling away within the first week leaving you looking patchy, blotchy, and far from sun-blessed!
Of course you must protect your skin whilst out in the sun, and don't stay in the sun too long. Several shorter periods in the sun are much safer than grilling yourself for hours, and the results will last much longer too. Believe me, when skin has been properly primed with the correct regime of moisturising and conditioning, your tan will look much better and survive through until autumn.
Fake it, or bake it?
Most beauty experts today advise using a fake tanning product, since the result you get out of a bottle or spray is almost indistinguishable from the real thing and is a much safer method. However, I know that many of you prefer to enjoy the rays of the sun to get the bronzed look, and I can promise you these guidelines work equally well with both methods.
Whether you are planning to use a sunless tanning system, book a course on a sunbed, or use the real thing to get your tan, it is absolutely vital that you condition your skin first otherwise your tan will not last more than a few weeks. In fact, if you are planning to get your tan out of a bottle, getting your skin in good condition first is even more important because it will soon become patchy as the dead skin cells begin to shed.
So to keep your tan for longer this summer, follow these 5 easy steps:-
Step 1 – Cleanse
Rinse the face thoroughly with water and apply the cleanser to your face thoroughly every morning and night. Be sure to remove all traces of make-up and skin care products before applying self-tanners or sun-block. Likewise, when you return home after being out in the sun cleanse once more and follow up with toner and moisturizer.
Step 2 – Tone
To close your pores gently use a toner that does not contain any alcohol, or if you do not have an alcohol-free toner you can always use a hydrosol instead. Rose, orange blossom, lavender or geranium hydrosols are excellent for this job because of the added skin conditioning benefits they bring. Soak your cotton wool pad with toner or hydrosol, and with upward and outward movements sweep across the face and neck.
Step 3 – Moisturise
Daytime replenishment is absolutely essential to keep your skin soft and free from peeling. Use a light moisturising body lotion to preserve the moisture balance in your skin, and apply a day cream to nourish the face and neck. Adding essential oils such as frankincense, geranium, lavender, neroli, palmarosa, rose or sandalwood to a base carrier lotion or cream is perfect for rebalancing your moisture levels.
If you have stayed in the sun too long use Roman chamomile and lavender essential oils in your cream or lotion base blend because they work fantastically well together to soothe and heal sensitised skin.
Aloe vera gel has a cooling and soothing action that is helpful if you've had too much sun, plus it stimulates the circulation of the skin thereby accelerating cellular regeneration as well as softening and hydrating the skin.
Whenever your skin becomes really dry after too much sun, your aromatherapy carrier oils will do an amazing job of nursing your parched skin back to health. Before you go to bed, apply carrier oils such as argan, black seed, calendula, evening primrose, jojoba, macadamia or moringa to add extra nourishment and moisture directly back to your dry skin.
Of course you can add rejuvenating essential oils to these carrier oils to deliver the very best results to your skin. Add just one drop of essential oil to 5mls of your chosen carrier oil, and this should be sufficient for a couple treatments since a little goes a long way.
Step 4 – Exfoliate
Ideally, you should exfoliate at least once or twice a week to keep your skin in tip-top condition all year round. Apply your exfoliator and work in a circular motion over the face and body to slough off dead skin cells and reveal revitalised, fresh skin. Pay particular attention to elbows and kneecaps – especially if you are going to use a tanning lotion since these areas will absorb lotion unevenly if the skin is very dry and unconditioned.
Step 5 – Mask
Use a clay mask for facials if possible, since they are absorbent and draw out impurities in the skin and unclog the pores more efficiently. After exfoliating, apply a fine even layer, taking care to avoid the delicate eye area. Leave to dry for 5 to 10 minutes and rinse thoroughly with cool water. Apply toner and then moisturise in the usual way.
Start conditioning your skin now with this easy to use regime and it will not only retain a healthy-looking glow for longer, but it will feel softer, radiant, and more youthful all year round. Many people are absolutely amazed to discover this the easiest and most effective way to get a great sun tan and make it last longer.
Copyright © Quinessence Aromatherapy Ltd 2014. Written by Sue Charles