Natural Winter Skincare Protection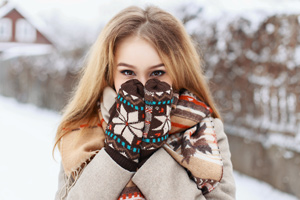 The colder winter months are finally upon us which means it's time to make changes to our skin care routine before the winter weather starts to take its toll.
Just as your body needs different clothing to protect it against the changing weather, your skin needs a different skin care regime to properly protect it from the harsh weather too.
Despite wrapping up well when going outside, we often fail to shield our legs, hands, and faces sufficiently. And when repeatedly exposed to the harsh winter weather these areas can really take a beating, becoming excessively dry, irritated and chapped. Now we are seeing regular early morning frosts it makes it vitally important to take protective and preventative action now, before any damage is done to your skin.
And don't worry, you don't need to splash out on any expensive brand-name products – all you need are your trusty aromatherapy carrier oils. These natural, cold-pressed vegetable oils are free from the harsh chemicals commonly found in products today, plus they are convenient and versatile. They are a perfect form of natural skincare protection
Skincare protection and repair, the natural way
I know I'm always banging on about this, but when used correctly aromatherapy carrier oils do not make your skin excessively greasy as you might expect. What they will do is bring a softening, rejuvenating and defensive action that will deliver effective skincare protection against the biting, chilly winds of winter.
This is because some carrier oils contain special natural ingredients that are very similar to sebum, your skins own natural moisturising agent. Sebum contains oleic acid, and this particular ingredient can be found in olive, jojoba, moringa, and sunflower carrier oils, which explains why the skin has such an affinity to them. Jojoba oil in particular is a surprisingly non-greasy, highly emollient oil that moisturises and conditions your skin leaving it feeling wonderfully silky, smooth and soft.
Moringa oil (Moringa oleifera) is similar in composition to olive oil but much lighter, making it an outstanding oil for winter. It contains oleic, palmitic, linoleic, and linolenic acids, which make it exceptionally moisturising and nourishing – absolutely perfect for facial treatments during the winter weather. As if this were not enough, moringa is also a powerful natural antioxidant with excellent anti-wrinkle, skin-smoothing properties. What more could you want from a natural product!
In my opinion, the only carrier oil to out-perform moringa is argan oil (Argania spinosa), which is often referred to as 'liquid gold' by leading beauty experts. Argan oil has a unique, rich and complex mixture of flavonoids, polyphenols, carotenoids, ferulic acid, vitamin E, and antioxidants, which not only protects your skin against the winter weather, but also provides protection against wrinkles, improves the skins elasticity, and strengthens the protein bonding structures which tightens the skin.
Evening primrose, unrefined avocado, borage, macadamia and jojoba oils also contain high levels of palmitoleic acid plus other essential fatty acids that provide deep moisturising and nourishing qualities. Evening primrose mixed with calendula is one of the finest carrier oil blends for relieving the painful chapped, red and irritated skin caused by harsh weather conditions. These carrier oils can be used undiluted or mixed with a lighter carrier oil such as sweet almond to bring you winter skincare protection.
Penetrating power
For very dry skin caused by wind-burn I always recommend using unrefined avocado oil because it is a deep-penetrating oil. Simply add up to 20% of this carrier oil to a lighter one such as peach or apricot kernel for restorative and protective facial treatments. When buying avocado oil, always choose the unrefined type since all the vital nutrients have not been removed during a pointless procedure to lighten the colour and remove the slightly nutty aroma. Believe me, putting up with the aroma of unrefined avocado oil is well worth the trouble when you see the results in your mirror.
For overnight rejuvenating treatments I always recommend rosehip oil because it is a natural antioxidant with excellent emollient properties. Even more importantly, it is a powerful skin cell regenerator that can help to soften fine lines and wrinkles. There have been extensive clinical trials that have proven the efficacy of rosehip oil in reducing scars caused by accidental burns, radiotherapy treatment, surgery, natural pigmentation and stretch marks.
All of the carrier oils in this article are highly nourishing and emollient to the skin, offering effective skincare protection and rejuvenation during the colder weather. They are especially recommended for the treatment of dry, sensitive or mature skin that is susceptible to the harsh winter environment, and can be blended together just as you would your essential oils. Simply choose 2 or 3 oils according to the therapeutic properties that you require.
Start using your carrier oils now, and I guarantee you will see and feel the benefits of natural skincare protection throughout the winter.
Copyright © Quinessence Aromatherapy Ltd 2013. Written by Sue Charles