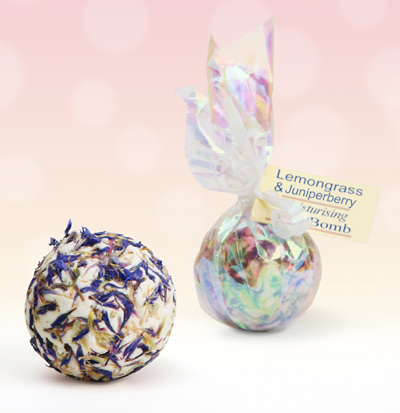 Moisturising Bath Bomb - Lemongrass & Juniper Berry
Drop one of these effervescent, moisturising Bath Bombs into your tub and step into a totally revitalizing and toning bath-time experience.
Lemongrass essential oil is used in aromatherapy to ease aching muscles and bring back tone, as well as strengthening and fortifying a weary mind.
Whilst relaxing in the bath, the infusion of Shea and Cocoa Butter botanicals set to work to deep-cleanse and condition your skin, leaving it feeling relaxed, soft and silky smooth.
Each Moisturising Bath Bomb is hand rolled with Juniper Berries and Cornflower petals and is individually gift-wrapped in beautiful iridescent film-wrap making it the perfect gift idea.
Please note - Unlike many of the larger, tangerine-sized bath bombs that contain only fizzy bicarbonate of soda, these compact-size Moisturising Bath Bombs are highly-concentrated and packed with high quality, natural botanicals of Shea and Cocoa Butter to soften the bathwater and moisturise your skin.

Don't let the compact size fool you - your skin will certainly be able to tell the difference between these Moisturising Bath Bombs and the plain bicarbonate of soda ones!
Buy with confidence – 30 Day Money-back Guarantee
Not tested on animals – learn more
Contains Pure Essential Oils
Contains Skin-softening & Nourishing Shea Butter
Contains Moisturising Cocoa Butter
Size - Approximately 4 centimetres (1.5 inches) in diameter