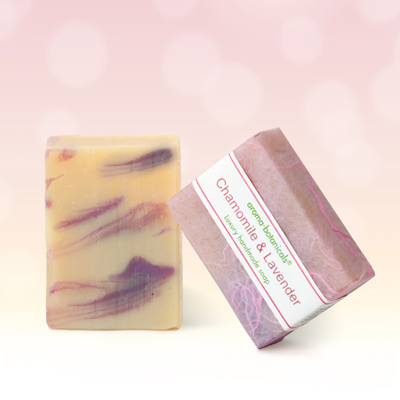 Chamomile & Lavender Aromatherapy Soap
If you suffer from sensitive and allergy-prone skin, this hand-made soap bar is exactly what you need. Few essential oils can beat the gentle calming and healing effects of Roman Chamomile and Lavender, especially when blended together, so these two highly therapeutic essential oils were obviously our first choice when we decided to develop a natural soap for allergy-prone skin.
To ensure the maximum levels of moisturisation to quench dry, thirsty skin, we added Shea Butter since this 100% natural ingredient has been endorsed by women in tropical countries for thousands of years due to its remarkable skin-softening and moisturising properties. Finally, for a creamy, smooth texture we enriched the formula with Olive Oil, Palm Oil and Coconut Oil.
The unique combination of natural, organic and gentle ingredients makes this luxury soap perfect for dry, eczema prone skin types, as well as for young children and babies. The luxurious creamy lather of this natural cleansing bar has a silky texture that will pamper your skin, soothe your senses, and leave you with a gentle aura of fragrant chamomile and lavender.
To ensure absolute freshness, Quinessence soaps are hand-crafted in small batches, hand cut, and allowed to cure for over 8 weeks to produce a hard, long-lasting cleansing bar. Each block of soap is individually wrapped to prevent the loss of precious essential oil aroma and moisturising properties.
Buy with confidence – 30 Day Money-back Guarantee
Not tested on animals – learn more
Sodium olivate, Sodium palm kernelate, Sodium cocoate, Aqua, Sodium shea butterate, Glycerin, Sodium sweet almondate, Sodium castorate, Anthemis nobilis, Lavandula angustifolia, CI 77007, CI77491, Linalool, Geraniol, Limonene, Citronellol, Coumarin