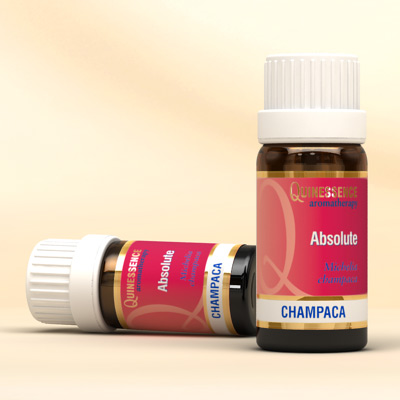 Champaca Absolute
Relaxing, rejuvenating and sensual. Also known as champa and champaka, Champaca Absolute is extracted from the fragrant flowers of a tree that is highly revered by the Hindus, and is dedicated to Vishnu and Kamadeva (the Hindu god of love) and associated with Maitreya, the eighth Buddha. This is why the tree is considered so sacred.
The deep, seductive and complex aroma of Champaca Absolute has many subtle nuances; it has a sweet and exotic, dry floral bouquet, with a warm, sensual and spicy undertone that is similar to carnation. Keen noses will also detect subtle but recognisable hints of familiar floral notes comparable to ylang ylang, rose and neroli, which is why it blends so well with all of these.
Champaca Absolute Oil For Muscles
Used in massage blends, Champaca Absolute supports healthy joints and muscles as well as having a reputation as a potent aphrodisiac that helps with nervous-related intimacy problems and frigidity. In skin care treatments, champaca revitalising properties help moisturize and revitalize dry, mature and wrinkled skin – and the fragrance is truly divine!
Champaca Absolute Oil Scents
The seductive and beautiful fragrance of Champaca Absolute produces a celestial atmosphere that soothes, relaxes and strengthens the mind after a stressful day. It helps to instil a sense of purpose and build strength of character, and this ability is invaluable for those who are full of self-doubt or continually question their chosen path in life.

Champaca Absolute is also available from Quinessence as a 5% Dilution.
Free UK delivery on all orders over £25.00
Buy with confidence – 30 Day Money-back Guarantee
Not tested on animals – learn more
Please note: Champaca Absolute has a rich consistency, and at cold temperatures this oil sometimes sets completely. Simply placing the bottle in warm water for 10 to 15 minutes will get the oil flowing properly.
Botanical Name:

Michelia champaca

Country of Origin:

India

Extracted From:

Flowers

Extraction Method:

Solvent/alcohol extraction

Principal Constituents:

Iso-phytol, Linalool, Benzoic acid, Benzaldehyde, Benzyl alcohol, Benzyl acetate, Iso-eugenol, Cineole, p-Cresyl methyl ether, Phenylethyl alcohol