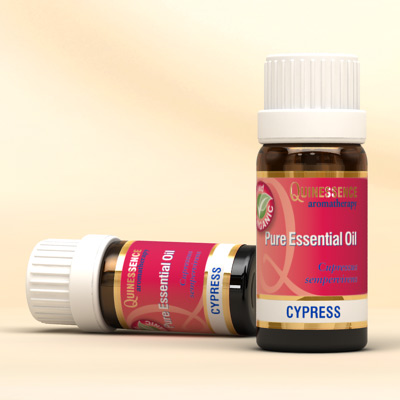 Cypress Essential Oil - Certified Organic
Astringent, detoxifying and toning. Although cypress trees grow abundantly throughout Europe, we have selected this organically produced Cypress Essential Oil from France specifically for its exceptionally clear and refreshing sweet-balsamic woody odour. It is a versatile base note that helps to smooth out the rough edges of fragrance of blends.
Utilized in massage blends Cypress Essential Oil helps to increase circulation and is good for reducing visible veins and cellulite. Its unique woody-herbaceous fragrance is often favoured by men, which is why it is used in so many aftershave and cologne preparations. Cypress oil is a natural deodorant, and also helps to balance oily skin and hair.
On the emotional system, Cypress Essential Oil is strengthening and fortifying which helps to facilitate changes in life and bring about transformation, especially for those still rooted in the past. As you might expect from its historic associations, Cypress Oil can be used for grief and bereavement since it is both strengthening and relaxing to the mind. Quinessence organic Cypress Essential Oil has been certified by ECOCERT.
Buy with confidence – 30 Day Money-back Guarantee
Not tested on animals – learn more
Botanical Name:

Cupressus sempervirens

Country of Origin:

France

Extracted From:

Needles

Extraction Method:

Steam distillation

Principal Constituents:

a-Pinene, d-3-Carene, Myrcene, b-Pine