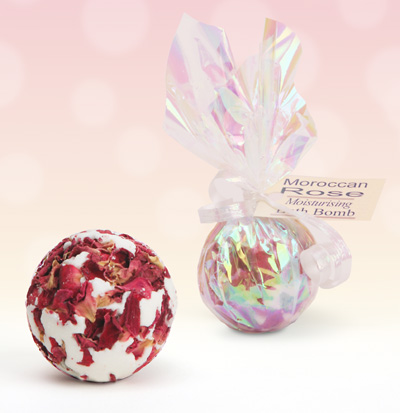 Moisturising Bath Bomb - Moroccan Rose
Over 2,000 years ago Cleopatra famously discovered the seductive and rejuvenating effects of rose oil and would take luxurious baths filled with its fragrant, skin beautifying petals to condition and pamper her skin.
This luxurious Bath Bomb combines the deeply conditioning, moisturising and skin softening qualities of Shea Butter with fragrant and exotic Moroccan Rose oil to bring you the ultimate in modern bath-time luxury. If Cleopatra were alive today, she would definitely have used these wickedly sensual Bath Bombs to seduce Mark Anthony!
Each Moisturising Bath Bomb is hand-rolled with real rose petals and is individually gift-wrapped in beautiful iridescent film-wrap making it an ideal gift.
Please note - Unlike many of the larger, tangerine-sized bath bombs that contain only fizzy bicarbonate of soda, these compact-size Moisturising Bath Bombs are highly-concentrated and packed with high quality, natural botanicals of Shea and Cocoa Butter to soften the bathwater and moisturise your skin.
Don't let the compact size fool you - your skin will certainly be able to tell the difference between these Moisturising Bath Bombs and the plain bicarbonate of soda ones!
Buy with confidence – 30 Day Money-back Guarantee
Not tested on animals – learn more
Contains Pure Essential Oils
Contains Skin-softening & Nourishing Shea Butter
Contains Moisturising Cocoa Butter
Size - Approximately 4 centimetres (1.5 inches) in diameter
Sodium bicarbonate, Citric acid, Theobroma cacao, Zea mays, Butyrospermum parkii, Ammonium lauryl sulfate, Rosa centifolia flower & oil, Bursera delpechiana, Lavandula angustifolia, Pelargonium graveolens, a-Isomethyl ionone.