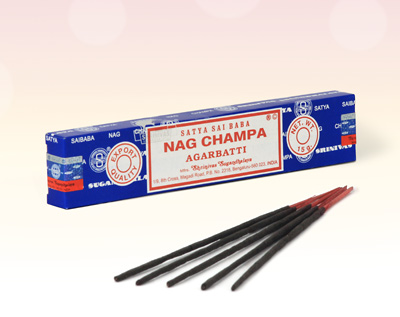 Nag Champa Incense Sticks
Made by Shrinivas Sugandhalaya, this famous Sai Baba Nag Champa is probably the most popular Indian Incense in the world, and its unique aroma exudes exotic, relaxing and romantic energies.
This traditional incense was originally burned in ashrams, monasteries and temples across India and Nepal to increase spirituality and help deepen states of meditation. Today it is still used widely in Ashrams where religious ceremonies, meditation, yoga, and musical studies are conducted.
Nag Champa contains highly fragrant flowers such as Champaca, rare gums and resins, powders, and pure sandalwood oil. This unique combination of fragrant ingredients produces a distinctive sweet, floral and spicy fragrance which has a distinct and authentic 'Indian' characteristic. The fragrance of these long lasting incense sticks will lightly linger in your room for hours.
Supplied in a 15g pack
Buy with confidence – 30 Day Money-back Guarantee