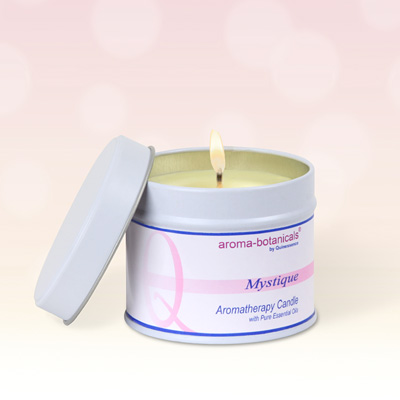 Aroma-botanicals 'Mystique' Tin Candle
A complex and mysterious blend of pure essential oils that creates a delightfully dreamy and captivating atmosphere wherever it is used around your home. This scented tin candle's unique, fruity-floral aroma of this aromatherapy tin candle helps to maintain a haven of peace and tranquillity in a busy modern household, without the need to tranquilize anyone!
Housed in a contemporary re-usable aluminium container to retain the aroma, we use a 100% soy wax blend for a healthy, cleaner burning, and toxin-free aromatic tin candle. No smoke, no soot, just a beautifully fragrant experience with our scented pillar candles or aromatherapy pillar candles. They are sure to bring pure delight to absolutely any room in your home.
Please ensure that you use a suitable heat resistant surface when the essential oil candle is lit.
Buy with confidence – 30 Day Money-back Guarantee
Not tested on animals – learn more
Please ensure that you use a suitable heat resistant surface when the candle is lit.
Tin size - 6.50 x 7.00 cm (height x diameter)
Burn time - 20 hours (approx)