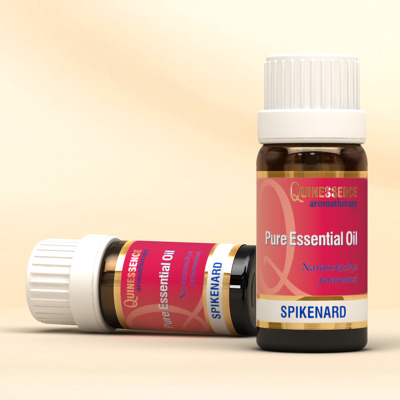 Spikenard Essential Oil
Strengthening, rejuvenating and unifying. Spikenard essential oil helps to rejuvenate dull, dry, and mature skin, and is used to prevent the premature ageing of skin. It calms and soothes red, itchy, problem skin conditions, encourages hair growth, and also combats dandruff. Combine spikenard with tea tree oil for best results when treating dandruff.
Known in Ayurvedic medicine as Jatamansi oil, Spikenard is an effective essential oil to relax states of agitation and to help regulate the nervous system. In common with frankincense and myrrh, spikenard essential oil promotes a state of peace and tranquillity and helps to soothe a troubled heart.
Spikenard Essential Oil has a complex green-mossy, slightly woody and earthy aroma with musky overtones, and also has nuances that are reminiscent of valerian oil (Valeriana officinalis). Hardly surprising, since it is a close relative of this species. Despite their botanical relationship, spikenard does possess therapeutic qualities that are quite different, and its aroma is much more appealing than valerian. Spikenard oil is commonly used by women in India to perfume their hair.
Buy with confidence – 30 Day Money-back Guarantee
Not tested on animals – learn more
In 2011, researchers investigated the long held claim that spikenard oil helps to stimulate hair growth, and reported positive results that were encouraging.

Spikenard was known in biblical times as Nard and was used in incense during religious ceremonies. The oil extracted from the root of the plant was considered holy and believed to instill inner peace and nourish the soul. It was also used as a medicine.

Spikenard oil was a precious commodity in ancient times, and originally reserved for kings, priests, and privileged esoteric apprentices in Egyptian, Hebrew, and Hindu cultures. It was also used for its wide range of healing medicinal properties in ointments, and eventually it became more freely available for use in common folk medicine.
Botanical Name:

Nardostachys jatamansi

Country of Origin:

India

Extracted From:

Rhizomes

Extraction Method:

Steam distillation

Principal Constituents:

b-Gurjunene, a-Patchouline, Aristolenone, Patchouli alcohol