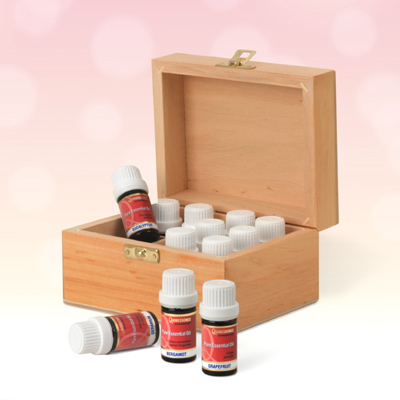 Spring Fever Essential Oil Kit
Celebrate the arrival of Spring with this versatile set of refreshing, reviving and uplifting essential oils - and receive a stylish handmade wooden 12 Space Essential oil Storage Box - absolutely FREE!
That's right, - when you buy this great selection of 12 Quinessence pure Essential Oils you will also receive this fantastic Essential Oil Storage Box worth £18.99 with our complements!
This carefully chosen selection of essential oils provides everything you need to blend a huge range of exciting and uplifting springtime aromas.

This Essential Oil Kit includes:-
Basil 5ml
Bergamot 5ml
Cedar Atlas 5ml
Eucalyptus Lemon 5ml
Geranium 5ml
Grapefruit 5ml
Lavender 5ml
May Chang 5ml
Orange Sweet 5ml
Pine 5ml
Rosemary 5ml
Spearmint 5ml
FREE 12 Space Storage Box

But don't delay - we only have 75 Spring Fever Kits available, and when these are all sold the offer will end. Order your Spring Fever Kit today and claim your FREE hand-made wooden 12 Space Essential Oil Storage Box - before stocks run out!
Buy with confidence – 30 Day Money-back Guarantee
Not tested on animals – learn more