Government Urged To Honour Promises To End Animal Testing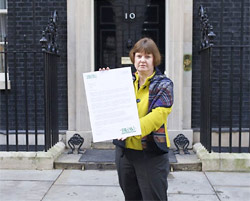 The British Union for the Abolition of Vivisection (known as BUAV) is widely respected as an authority on animal testing issues and is frequently called upon by governments, media, corporations and official bodies for its advice or expert opinion. For over 100 years the BUAV has been campaigning peacefully to create a world where nobody wants or believes we need to experiment on animals.
BUAV Chief Executive, Michelle Thew, recently presented a letter to Number 10 Downing Street calling on the Government to take urgent action to honour its pledge to reduce the number of animals suffering in laboratories.
The BUAV's detailed proposal has been presented at the launch of a new campaign to highlight the Coalition's broken promises on animal experiments.
Despite a pledge in the Coalition Agreement to 'work to reduce the use of animals in scientific research' the most recent statistics from the Home Office show that more than 3.7 million animals were used in experiments in Great Britain in 2011. That's an increase of nearly 2% on 2010 and the highest figure since 1986.
While the Government has recently been keen to stress that the work is on-going, the facts tell a different story. The BUAV is now increasing the pressure on the Government to fulfil its promise to develop and implement a strategy to fulfill its 2010 pledge.
Since the 2010 election the BUAV has been leading the calls for the promise to be kept, with Early Day Motions securing the support of more than 200 MPs.
The letter which BUAV Chief Executive, Michelle Thew, delivered to Prime Minister David Cameron highlights five proposals which, if adopted by the Government would ensure a significant drop in the use of animals in experiments.
Further information on the 'Broken Promises' campaign can be found on the BUAV website.
The BUAV say they will continue to hold the Government to account for their broken promises, so be sure to keep checking the BUAV website for the latest news on this campaign.
If you care about animal welfare and would like to help bring an end to barbaric animal testing, please ask your MP to sign EDM 405 which calls for the Government to honour its pledge to reduce the number of animals used in experiments.
Copyright © BUAV 2013