10 Easy Ways To Use Essential Oils Around Your Home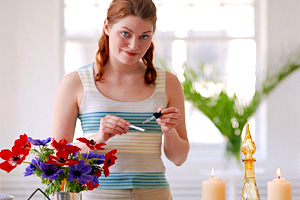 Usually when you want to create a soothing, relaxing atmosphere in the house, lighting up a burner or plugging in a vaporizer is the preferred option.
But it is not always possible to use a burner in some locations, so having alternative techniques to diffuse your essential oils can come in really handy.
Fortunately, there are lots of easy ways you can enjoy the wonderful benefits of natural fragrance around your home, and you could even use these techniques at work too. Just be sure you check it's okay with your boss first!
The chances are you will already have most of the essential oils you will need to enjoy these different methods, so all you have to do is get them out and start putting them to use in ways you've not used before. Here's how to do it.
1 – Heaven scent
Underwear drawers can be lightly perfumed by putting a few drops of essential oil onto a cotton-wool ball or piece of tissue and placing it into the drawer. Now every time you open the drawer, a light breeze of heavenly fragrance will waft your way.
For a seductive aroma choose sensual and exotic oils such as Ylang Ylang, Rose, Jasmine or Sandalwood, or for something a little more conservative try Lavender or Geranium. Your clothes will also absorb the aroma of the oils that you have selected – so be sure to choose fragrances that you really like.
Copyright © Quinessence Aromatherapy Ltd 2002. Written by Geoff Lyth