Essential Oils For Common Winter Illnesses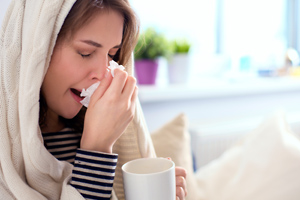 Winter is no fun if you suffer from illnesses such as coughs, colds and flu.
However, you can use your essential oils effectively to treat the symptoms and enjoy some relief from the misery of all the cold weather.
Winter illnesses are not usually life threatening but they can leave you feeling lethargic, exhausted and under the weather.
They can also drag you down emotionally too, which is the last thing that you need during the dark, depressive months of winter. It's been scientifically proven that a positive attitude also helps speed up the natural healing process of the body.
Symptoms such as coughs, sniffles and stiff aching joints can be found among most of the common winter illnesses people experience. Fortunately, there are several essential oils that can help to relieve the stuffiness, aching and irritating niggles associated with such winter-time conditions.
Essential oils for colds
Symptoms of the common cold are most effectively fought with essential oils that possess anti-viral properties, plus anti-bacterial qualities for the follow-up problems that sometimes occur after viral infections. Essential oils encourage the body's immune system to protect itself against such infections in a safe and natural way. Choose essential oils such as tea tree, ravintsara, thyme, peppermint, and lemon to protect and fight back against the common winter cold.
Essential oils for flu
Flu, or influenza, is a much more serious condition than the common cold, although most people today use the phrase interchangeably. However, if not treated correctly flu can become extremely serious so it is best to always check with your doctor if your symptoms are indicative of this illness. Essential oils with anti-viral, anti-bacterial and antiseptic properties such as eucalyptus radiata, eucalyptus lemon, tea tree and thyme are good choices to help in the fight against flu.
Essential oils for coughs
Coughs accompany many different respiratory infections and can range from irritating to painful. Use essential oils which have antiseptic, anti-bacterial and anti-catarrhal properties to treat coughs; these include thyme red, all types of eucalyptus (E. citriodora/globulus/radiata/smithii) and sweet marjoram. Sandalwood and frankincense essential oil can help ease ticklish, spasmodic coughs.
Essential oils for muscle aches
Aching muscles are often a common side effect of both colds and flu. Essential oils that have analgesic properties are particularly good for easing such muscle and joint aches and pains, and in my opinion, the best oil for this job is plai (Zingiber cassumunar). Plai essential oil is used in Thailand and Southeast Asia by massage therapists for treating rheumatism, arthritis, and all types of aches and pains.
Other useful oils to ease muscular aches and pains include German chamomile, Roman chamomile, black pepper, rosemary, peppermint, ginger, and frankincense.
How to use essential oils for winter illnesses
Probably one of the most effective ways in which you can use essential oils for winter illnesses such as coughs and colds, is through the inhalation of essential oils. Coughs and colds affect the respiratory system, so breathing the vapour of essential oils is one of the quickest and most effective ways to reach the parts of the body most affected, which are the lungs and sinuses. And there is more than one way you can use your essential oils to bring effective relief and comfort to the misery of coughs and colds.
You can inhale essential oils such as eucalyptus, frankincense or niaouli from a steaming bowl of hot water, or if you prefer you can add them to an aromatherapy bath and enjoy a nice long soak while the aromatic vapours work enter your lungs and work their wonders on your respiratory system. For an aromatherapy steam inhalation just add 3 drops of essential oil to a bowl of hot water, cover your head with a towel, and then lean over the bowl and gently inhale. When suffering from a congested chest or sinus pain, a steam inhalation is the best and quickest method to get some relief.
Aromatherapy bath
For an effective aromatherapy bath, simply add 6 drops of your chosen essential oils to warm water, add an aromatherapy dispersant, and then agitate the water well to make sure the oils are distributed evenly in the water. To help ease congested lungs choose from cedarwood atlas, eucalyptus smithii, frankincense, ravintsara or sandalwood essential oils, or use a combination of them for to increase the potency of their action.
If you suffer from muscular aches and pains the best remedy is to add 4 to 6 drops (in total) of the essential oils listed above to your hot bath. Inhaling the vapours whilst enjoying your bath also helps the essential oils work their magic, with the added benefit that as well as relieving your aching muscles, the essential oils bring peace and tranquillity too. You can also make up an appropriate essential oil blend in a carrier lotion base or carrier oil and massage it over your chest or throat area to bring some soothing relief.
Aromatherapy compress
Using essential oils in a cold compress will help relieve headache pain too. Put only 1 or 2 drops of peppermint essential oil into icy cold water, and using a folded piece of absorbent material soak up the oils without fully immersing in the water, wring out excess and apply to the affected area. Finally, cover the area with a towel or wrap with polythene.
Copyright © Quinessence Aromatherapy Ltd 2023. Written by Geoff Lyth