Essential Oils For Winter Wellbeing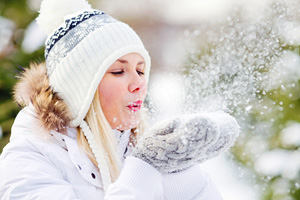 In winter it's not uncommon to find ourselves wanting to stay in bed that little bit longer to keep snug and warm.
I must admit, I find it much easier to get out of bed on a bright summers morning than when it's cold, dark and raining outside.
And on top of all that, the colder weather brings with it the misery of blocked noses, cold feet, aching joints – and summer seems so very, very far away during these long periods of lockdown living . . .
But don't forget that using essential oils throughout winter can awaken your dulled senses and lift your spirits during the gloomy weather, and since many of them are antibacterial and antiviral they help fight off all those winter ailments too. That's what makes aromatherapy the perfect tonic for the winter season.
Essential oils for a winter warm-up
If you suffer from poor circulation and have cold feet and cold hands at this time of year, then warming essential oils such as black pepper, cardamon, clove bud, ginger, juniper berry, marjoram and rosemary are just the thing for you. Choose 3 oils from this list and add 2 drops of each to 10ml of your chosen carrier oil or lotion. Rub your blend vigorously into your frosty fingers or feet and you will feel a warm glow spread throughout your body as your circulation get moving.
Because these essential oils are warming and stimulating, it also makes them highly effective at easing those every-day aches and pains, stiff backs and similar conditions which always feel much worse during the winter months. In addition to using them in a massage, these oils can be added to a warm bath which I feel is one of the nicest (and laziest!) ways to enjoy aromatherapy during the cold winter months.
Water works
Aromatherapy baths are perfect for lifting your spirits during the depressing winter months, and so easy to prepare. Before stepping in, set the scene for a soothing aromatherapy bath with some nice relaxing music and the flicker of candlelight, and you will have created your very own health spa without the hefty high-street cost.
Whilst your bath is running, brush your skin all over to stimulate your circulation and improve the flow of lymphatic fluid. Your skin is the biggest organ in the body and it plays a major role in eliminating toxins. Using a natural bristle brush or loofah, start at your toes and gently brush upwards towards your heart using quick sweeping motions.
Choose the essential oils you want according to your mood or needs, and add them to the water after running your bath. Adding your oils too early can be wasteful since a large proportion will evaporate before you even get into the bath. Always add your oils just before stepping in, and make sure you use some type of dispersant to ensure your oils distribute nice and evenly on the surface of the water.
Soothing soak
Try adding two drops each of ylang ylang, lavender and bergamot oils to soothe away all the stresses, strains and frustration caused by 12 months of living with Covid-19! You only need to use a total of 6 or 8 drops of essential oil in your bath since essential oils are very potent.
If your legs and tootsies are tired from struggling through all the snow we've been having lately, then a blend of sweet marjoram, black pepper and rosemary essential oils will quickly ease them back to normal. Carrying large bags of lock-down shopping can play havoc with your shoulders and back, so try a blend of Roman chamomile, ginger and lavender to help lighten your load the load.
Breathe easy
If you suffer with blocked sinuses or congestion during the winter, you will find that using cypress, eucalyptus radiata, silver fir, frankincense, peppermint, pine, ravensara or tea tree oils in your diffuser can bring tremendous relief. When you have a case of the sniffles or a runny nose remember, these same essential oils all have highly effective antiviral properties too, and are ideal to kill those nasty winter bugs.
If you don't have a diffuser or burner, you can also use these essential oils in a good old-fashioned steam inhalation; simply choose a selection of 3 oils from the above list and add 1 or 2 drops of each to a bowl of steaming hot water. Please note that asthmatics should not use this method because it involves using steam directly over the facial area.
Alternatively, you can massage these oils on to the area above the upper lip, the tip of the nose and on the cheekbones outwards towards the ears. Use small, circular movements with your fingertips avoiding the eye area, and your stuffy nose should soon begin to clear. Take care to add no more than 3 drops in total of your chosen essential oils to 5ml of carrier oil.
Natural winter protection
Don't forget that using aromatherapy carrier oils is one of the finest ways to keep your skin soft and supple throughout the freezing winter weather. These natural protective oils can be used effectively without any essential oils to look after your skin because the texture and fluid nature of carrier oils have a natural affinity with the skin, and are very easily absorbed.
Gently massage a few drops onto the face and neck area twice a day during the colder weather and your skin will soon show the benefits. Remember your legs need protection too since they often feel and show the effects of the cold first.
Copyright © Quinessence Aromatherapy Ltd 2021. Written by Sue Charles