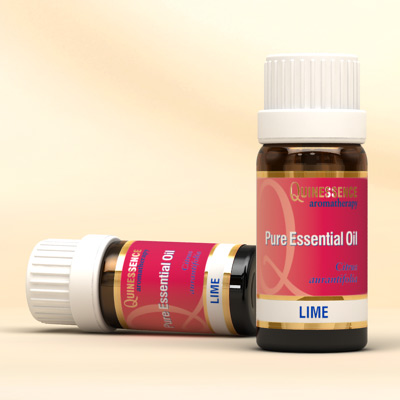 Lime Essential Oil
Antibacterial, reviving and energising. The fresh and zesty citrus aroma of Lime Essential Oil enlivens, refreshes and uplifts both mind and body. It can be used in massage blends as a tonic to energize tired muscles and to combat cellulite, and in skin care treatments its astringent action helps balance oily skin and fade spider veins.
Lime Essential Oil is also a powerful antibacterial agent that in research showed an ability to inhibit both types of bacteria (gram-positive and gram-negative), revealing it to be one of the most powerful antibacterial essential oils.
Please note: Quinessence supply only steam distilled (not expressed) Lime Essential Oil, therefore it is not phototoxic and safe for use on skin when diluted appropriately. Expressed lime oil is inferior in both aroma and action, and therefore best avoided in aromatherapy.
Buy with confidence – 30 Day Money-back Guarantee
Not tested on animals – learn more
Botanical Name:

Citrus aurantifolia

Country of Origin:

West Indies / Mexico

Extracted From:

Zest of the fruit

Extraction Method:

Steam distillation

Principal Constituents:

Limonene, g-Terpinene, Terpinolene, a-Terpineol