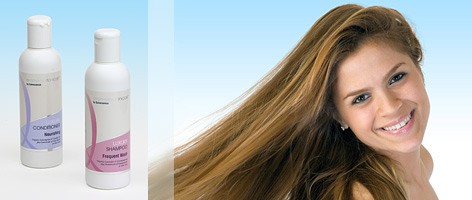 Aromatherapy Hair Care
Our luxury aromatherapy shampoos and conditioners utilise the very finest organic essential oils from around the world to nourish, balance and condition your hair. Enriched with active botanicals such as Aloe Vera, Pomegranate, Olive and Seaweed, these p.H. balanced shampoos are so mild and gentle that they can be used every single day - without drying the scalp as some shampoos do.
Quinessence aromatherapy hair care products do not contain SLS, SLES or Parabens and are packed full of the goodness of Organic Essential Oils and natural botanicals - to bring you beautiful hair - naturally.
The unique combination of organic essential oils and nutrient rich botanicals will cleanse and condition your hair, leaving it soft, shiny and manageable. Used regularly, Quinessence Hair Care products will keep your scalp in good condition and free from dry, flaky or itchy patches.
Browse our range of luxury Hair Shampoos and Conditioners.
Versatile essential oils
Essential oils can work wonders on the condition of your hair and scalp because they are so versatile. They can be used to strengthen hair, control dandruff, improve condition and help an itchy, flaky scalp - all at the same time!
Some oils work directly on the hair, helping to restructure, repair or strengthen it. Other essential oils improve the condition of the hair by improving the condition of the scalp. For example greasy hair is caused by over active sebaceous glands, and essential oils can help to balance this when used correctly and on a regular basis.
The scalp is a living organ, but sadly it is often neglected and abused which can lead to dull, dry, lifeless hair. This can not be over-emphasised - to have really healthy hair you must have a healthy scalp. When you do look after your scalp properly, your hair will be much easier to keep in tip top condition and you can say goodbye to all those bad-hair days.
These are the best essential oils for keeping your hair and scalp in tip-top condition:
Essential Hair Conditioners
Normal - Geranium, Palmarosa, Lavender, Rosemary, Ylang Ylang.
Dry - Elemi, Geranium, Palmarosa, Rosemary, Sandalwood.
Greasy - Cedar Virginian, Cypress, Geranium, Grapefruit, Juniper Berry, Lemon, Lime & Rosemary.
Essential Scalp Conditioners
Dandruff - Bergamot, Cedar Atlas, Patchouli, Rosemary, Tea Tree.
Normal - Palmarosa, Lavender, Rosemary.
Itchy scalp - Chamomile Roman, Chamomile German, Helichrysum, Lavender, Yarrow.
Select the essential oils to match your hair and scalp type, and add them to a fragrance-free base shampoo, conditioner or carrier lotion which has been specially formulated to work as an aromatherapy carrier. Using 25 drops (in total) of your chosen oils to every 50ml of shampoo or conditioner.
Adding both essential oils and a little Jojoba or Coconut oil to a Carrier Lotion is highly effective when left on to soak for 5 minutes or more. It will condition and soften your hair in a way that 'off the shelf' products simply can not do.
Kindly carriers
Carrier oils can also be used with great effect to moisturise and condition your lifeless hair, both with or without the addition of any essential oils. Jojoba, Coconut and Macadamia oils can be used alone or blended together to moisturise and condition brittle, dull or dry hair making it softer and more manageable.
Infused Calendula brings relief to an itchy, flaky scalp and will also help to improve the general condition of your hair at the same time. This is a real two-in-one hair product that works and is natural!
Intensive Revitalising Treatment
If you have dry, lifeless or chemically treated hair, here's an aromatherapy treatment to condition and give your hair a lovely healthy shine. Pour 10 mls (2 teaspoons) of Jojoba oil into a mixing cup and add 1 drop of Geranium, 1 drop of Patchouli and 1 drop of Sandalwood.
Pour one third of the oil into the palm of your hands, and massage it into the scalp. Repeat, massaging the oil through the hair until all the oil has been applied. Gently massage the scalp in small, circular movements for about 5 minutes to really get the circulation going. Cover the hair with a towel and relax for about 20 minutes.
This can make your hair a little oily, but the final results are well worth the effort, believe me. After 20 minutes, simply shampoo, rinse and condition your hair in the usual way. If you repeat this treatment regularly every week over the next month your hair will feel soft and luxurious, and will soon be the envy of all your friends!
Browse our range of luxury Hair Conditioners.