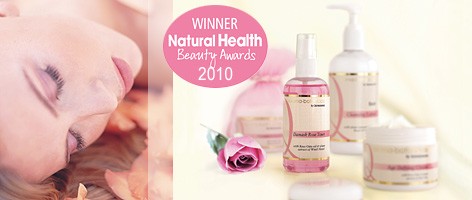 Aromatherapy Skin Care
Aromatherapy skin care products from Quinessence produce healthy, radiant skin, and bring a little harmony and balance into your stressful life! The beautiful fragrance of pure essential oils never fails to uplift and refresh your frazzled nerves, whist at the same time they nourish the skin and stimulate cellular renewal. What more could you ask of your aromatherapy skincare products!
See our Award-winning Aromatherapy Skincare Creams
Aromatherapy skin care products from a specialist company are also much better value for money than the high street brand names. Everyone knows that the market leaders spend far more money on the packaging and advertising than on the ingredients, and this practice is not likely to change any time soon. These leading brands do not sell products that meet an aromatherapists definition of aromatherapy skin care.
And that's not all. Did you know that many of the new creams claiming to reduce wrinkles in only a matter of hours contain chemical ingredients that have not been around long enough for their safety to be thoroughly established. Nobody knows yet what the results of 10 years continuous use could do to your skin. After all, many of these products were evaluated for safety by the inhuman practice of testing them on animals, not humans.
Real aromatherapy skincare
Like many specialist aromatherapy manufacturers, we take a very different approach to skin care, and use only natural, vegetable derived ingredients and organic pure essential oils. This way, we can be sure that you are getting the best that Mother Nature has to offer.
When developing the Aroma-botanicals Collection we insisted on using only natural, vegetal ingredients that have a long and proven record of efficacy and are safe for those with sensitive skin. We do not use any harsh chemical ingredients, that will damage your skin.
We also avoided the use of any modern controversial ingredients that can irritate sensitive skins such as AHA's etc, since although they promise great results, most of these 'miracle' ingredients have not been around long enough to discover any problems caused by long-term use on the skin. You will find our aromatherapy skin care range is kind and gentle on your skin.
Long-lasting results
Aroma-botanicals® is a natural, holistic, aromatherapy skin care collection that provides everything you need to re-hydrate, protect and nourish your precious skin, and will deliver results that you can both see and feel. And unlike some temporary solutions to skin care problems, Aroma-botanicals® deliver results that last.
A wide range of nutrient-rich, natural ingredients are expertly blended to provide you with a gentle, aromatherapy skincare regime that works in harmony with your mind and body, and bring you beautiful skin - naturally.
Power plants
Natures most therapeutically effective botanicals including Aloe Vera, Comfrey, Evening Primrose, Ginseng, Lady's Thistle and Shea butter are skillfully combined to fight premature skin ageing, firm skins elasticity, rehydrate and revitalise dull, tired skin.
Next, we add nourishing vegetable oils such as Centella asiatica, Jojoba, Rosehip and Carrot to condition and soften your skin, bringing a huge range of skincare benefits without the need for synthetic chemicals which can irritate the skin and be damaging over time.
Of course, without essential oils it would not be true aromatherapy skincare, so we use our finest Certified Organic Essential oils from around the world to ensure you will receive truly outstanding results. Our range includes everything you need to deep cleanse, hydrate and protect your skin from the ravages of time and the environment.
Learn more about what went into developing the Aroma-botanicals® luxury skin care range.