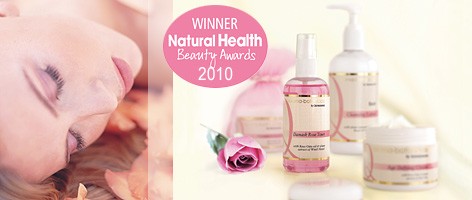 Natural Skincare
Aroma-botanicals® is an extensive, Award-winning natural skin care collection that provides everything you need to nourish, re-hydrate and protect your precious skin, bringing results that are cumulative and long lasting.
A rich harvest of nutrient-rich, natural ingredients is expertly blended to provide you with a gentle, aromatherapy skincare regime that works in harmony with your mind and body, to bring you beautiful skin - naturally.
Browse Aroma-botanicals Luxury Skin Care Range
What do they contain?
Natures most therapeutically effective botanicals including Aloe Vera, Comfrey, Evening Primrose, Ginseng, Lady's Thistle and Shea butter are skillfully combined to fight premature skin ageing, firm skins elasticity, rehydrate and revitalise dull, tired skin.
Next, we add nourishing vegetable oils such as Centella asiatica, Jojoba, Rosehip and Carrot to condition and soften your skin, bringing a huge range of skincare benefits without the need for synthetic chemicals which can irritate the skin and be damaging over time.
Of course, without essential oils it would not be true aromatherapy skincare, so we use our finest Certified Organic Essential oils from around the world to ensure you will receive truly outstanding results. Our range includes everything you need to deep cleanse, hydrate and protect your skin from the ravages of time and the environment.
Kind to skin and animals
Light textured and non-greasy, our natural skincare collection is designed to improve, tone, and beautify even the most sensitive and delicate of skin types. And because they do not contain any synthetic fragrances, mineral oils, animal extracts, lanolin or Paraben preservatives, the entire range is hypo-allergenic and non-comedogenic.
Quinessence is a registered Cruelty Free International approved manufacturer, therefore we can guarantee you that the entire range of Quinessence products is manufactured without causing any cruelty to animals.
Aroma-botanicals® Range includes:
Aloe Vera & Lavender Gel
Age Defying Cream
Anti Wrinkle Cream
Hydrating Day Cream
Hydrating Night Cream
Marinal Facial Exfoliator
Marinal Masque
Nourishing Hand Cream
Vitamin E Cream
It's never too late!
The Aroma-botanicals® Collection really does provide you with a natural skin care regime that will care for your precious skin, delivering results that you will both feel and see. Remember, no matter what your age is right now, it is never too late - or too early, to care for your precious skin.
And because every product contains vitalising Organic Essential Oils plus beautifying plant botanicals and moisturising vegetable oils, you will experience a totally holistic aromatherapy treatment each time you use them.
Aroma-botanicals® brings you beautiful skin - naturally.
Browse Luxury Facial Care Lotions.