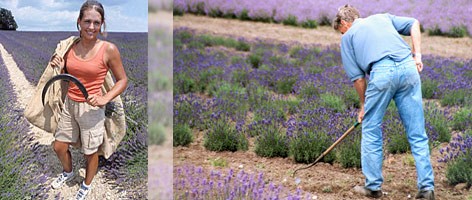 Organic Status of essential oils
To be certified as organic in the United Kingdom, a farm must first register with an organic certification organisation and enter a 2 year conversion period. For perennial crops this period may be extended to 3 years.
This time is to allow all traces of chemical pesticides and fungicides etc. to drain from the land and allow the soil to become more fertile whilst also allowing the farmer to adapt his farm management practices.
During this period there are regular inspections from the certifying body to ensure that all the necessary steps to conversion have been correctly employed. Only after the inspector is satisfied that the farmer has complied with all of the regulations is an organic certificate issued.
The farmer is then legally allowed to claim the crops grown on his land are 'certified organic', although annual inspections will continue to be made to ensure that the necessary standards are upheld.
No matter where in the world we source our organic essential oils, to be added to our range they are required to meet the following strict criteria before we purchase them:
All crops have been botanically authenticated
No chemical fertilisers - only farmyard manure used
No chemical insecticides or fungicides were used
Weeds were controlled by hand weeding
See the Quinessence range of Conventional and Certified Organic Essential Oils.
The term 'Organic' is defined by Law, and within the European Union organic farming it is governed by the European Council Regulation (EEC) No 2092/91 and means that farmers must abide by a strict set of rules. Organic status is only awarded to producers who have been inspected and shown to comply with all the necessary organic standards.
For 30 years we have been building close working relationships with growers, distillers and suppliers to ensure that our organic essential oils are produced by plants from identified certified botanical species that were not subjected to the use of pesticides or herbicides.
This philosophy is continuing to develop with an ever expanding number of producers around the world who share our convictions with regards to organic agriculture, biodiversity and sustainabilty.
And this is precisely why we develop close working relationships with those growers who use traditional farming practices - to promote a more sustainable ecological environment for the future.
Nowhere is this more true than in the United Kingdom, where we have forged allegiances with a network of farmers who are all dedicated to growing high quality, organic medicinal plants for the production of organic essential oils.
Copyright © Quinessence Aromatherapy Ltd 2000. Written by Geoff Lyth
If you enjoyed this article, please click the 'Like' button and help spread the word:
Next Why Buy Organic
See also Essential Oil Origins