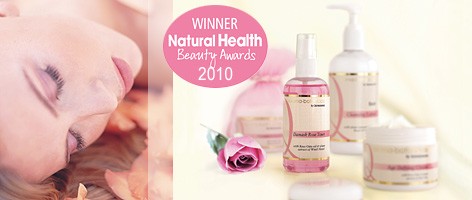 Aroma Botanicals Skin Care
Aroma-botanicals® is a complete skin care system that provides everything you need to nourish, re-hydrate and protect your precious skin, producing results that are cumulative and long lasting.
The rich harvest of natural, plant-based nutrient-rich ingredients provides you with a gentle skincare regime that works in harmony with your mind and body, to bring you beautiful skin - naturally. Not only that, but Aroma-botanicals bring you true, holistic aromatherapy skin care solutions at sensible prices.
Browse Aroma-botanicals® Facial Creams and Hair Shampoos
Over 5 years in development, this luxury Skin Care Collection was expertly formulated making use of Natures finest quality vegetal ingredients to nourish and beautify your precious skin. As a specialist aromatherapy manufacturer, we strive to develop products that will be not only effective, but also very safe for those whose skin is easily sensitised.
Therefore, when developing the Aroma-botanicals Collection we insisted on using only natural, vegetal ingredients that have a long and proven record of both safety and efficacy. We do not use any harsh, chemical ingredients that will damage your skin.
Power plants
A supercharged blend of organic essential oils and vitalising botanicals including Aloe Vera, Comfrey, Ginseng, Goldenrod, Lady's Thistle, Rose Mallow, Shea Butter and Seaweed are skilfully blended to bring dramatic improvements to your skin, promoting a healthy youthful glow.
Utilising these gentle, revitalising blends of nutrient-rich ingredients provides you with a skincare regime that works in harmony with both your mind and body, harnessing all the benefits of holistic aromatherapy and bringing you the results that you have been searching for - without the nasty side-effects.
We purposely avoided the use of any modern controversial ingredients that can irritate sensitive skins. Although 'miracle' ingredients such as AHA's etc. promise great results, most of them have not been in general use long enough to discover any problems caused by long-term use on the skin. Every one of the vegetal and botanical ingredients in this range have been used safely and effectively for centuries, and posess well documented beneficial effects.
Synergistic action
When these botanicals are combined with active vegetable oils such as Centella asiatica, Jojoba, Rosehip and Carrot, a powerful synergistic formula is created that delivers a huge range of skincare benefits. Of course, without essential oils it would not be true aromatherapy skincare, so we have added our finest Certified Organic Essential oils to ensure truly outstanding results.
Light textured and non-greasy, these aromatherapy skin care products do not contain any animal extracts, lanolin or harsh chemical preservatives, thus ensuring they are both hypo-allergenic and non-comedogenic. As a registered BUAV (British Union for the Abolition of Vivisection) approved manufacturer, we can guarantee you that the entire range of Quinessence products is manufactured without causing any cruelty to animals.
Aroma-botanicals® Skin Care Range includes:
Aloe Vera & Lavender Gel
Age Defying Cream
Anti Wrinkle Cream
Hydrating Day Cream
Hydrating Night Cream
Marinal Facial Exfoliator
Marinal Masque
Nourishing Hand Cream
Vitamin E Cream
The Aroma-botanicals® Collection really does provide you with everything you need to look after your skin, producing results that you will both feel and see. Remember, no matter what your age now it is never too late - or too early, to care for your precious skin.
Aroma-botanicals® brings you beautiful skin - naturally.
Browse Facial Lotions range