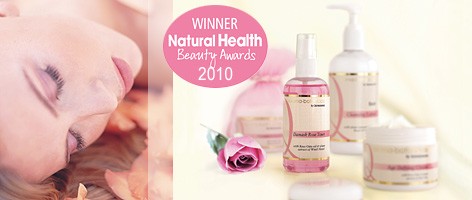 Active Botanical Ingredients
Aroma-botanicals® skin and hair care systems provide everything you need to nourish, re-hydrate and protect your skin and hair, producing results that are cumulative and long lasting. These outstanding results are achieved by using a skillful combination of high-potency, active botanical extracts that deliver results you can see, whilst being safe on the most sensitive of skin types.
This is because the botanicals that we have chosen have been used safely for centuries, which is something that most certainly can not be said for all the chemical ingredients so prevalent in many beauty products today. Only time will tell if 50 or 60 years of daily use will prove these new 'miracle' ingredients to be totally safe on your skin.
Natural ingredients
Meanwhile, we will continue to manufacture products using natural ingredients that nature has so thoughtfully provided for us. And there is certainly no shortage of effective plants to choose from, with scientists continually discovering more and more amazing healing and rejuvenating benefits within them.
Both our Professional and Retail range of Aroma-botanicals® products contain therapeutically-active levels of the most valuable natural plant extracts nature has to offer. These are some of the botanicals we use, and their beautifying qualities:
Aloe Vera

Wonderfully hydrating to the skin, emollient, and also accelerates cellular regeneration.

Arnica

Known to assist peripheral blood supply, assists toning and is soothing to the skin.

Carrot oil

A powerful accelerant of epidermal regeneration, and a free radical scavenger.

Centella oil (Gotu kola)

Traditionally used in India, China and Indonesia to improve skins elasticity, with the added benefit of firming the skin plus an anti-wrinkle effect.

Comfrey

Calming to the skin, this emollient botanical has a nourishing and conditioning action.

Evening Primrose

Highly effective at preventing moisture loss, whilst also softening and soothing the skin.

Ginseng

Effectively strengthens the cellular network, and has a revitalising and nourishing effect.

Goldenrod

Provides a calming and soothing action to sensitive skin, plus conditioning qualities.

Horse Chestnut

Astringent in action, toning and strengthening to the cellular network.

Lady's Thistle

An excellent free radical scavenger, with superb anti-ageing and regenerating properties.

Primrose

Soothes, softens and conditions dry skin.

Rosehip oil

Actively promotes cutaneous regeneration and delivers an emollient effect. Renowned anti-wrinkle, stretch-marks and scar reducing properties.

Rose Mallow

Calming and soothing to the skin, with a softening effect.

Seaweed & Algae

Effective yet gentle detoxifying action whilst hydrating and re-mineralising the skin. Also stimulates cellular activity.

Sea Lavender

Gentle astringent action with a calming and soothing effect.

Shea Butter

Has a renowned nourishing and protecting action whilst hydrating. A great emollient.

Witch Hazel

Well known for its astringent, purifying and refreshing action.

Vitamin E

One of the finest free radial scavengers with excellent anti-ageing properties. Also improves skins elasticity.
Aroma-botanicals® skincare brings you beautiful skin - naturally.