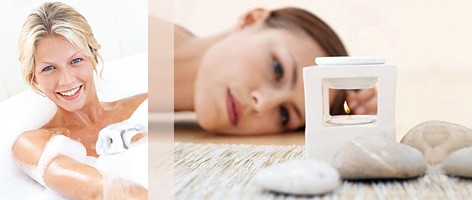 How to use Essential Oils
One of the great things about essential oils is their tremendous versatility and ease of use in aromatherapy. An amazing amount of power is packed into each drop, and this makes it very easy to use them in daily life to improve your health and wellbeing.
But because they can be used so many ways it can be tricky at first for newcomers to get started, since they don't yet know how to use esseential oils safely for health and well being. And safety is very important in aromatherapy.
It can be great fun learning how to use essential oils and trying out all the different ways they can be enjoyed, but you must use them properly to be safe and get the best results. Since essential oils are so powerful, they usually need to be diluted before you can use them.
The correct way to dilute and apply them is very important if you are to receive all the benefits of an oil, because no matter how good its quality may be, inhaling essential oil from a tissue or burner won't do much to ease an aching back!
Here are some of the easiest and most popular methods showing how to use essential oils, simply choose the method that best suits your particular requirements. Of course, to really experience the benefits and versatility of aromatherapy - you should try them all – but not all at the same time!
Massage oil
Massage is one of the best ways to enjoy aromatherapy because you not only receive the healing properties of the oils, but you also get the wonderful, stimulating benefits of the massage treatment itself. The therapeutic properties of essential oils when brought together with the revitalising effects of massage stimulate all of the organs in the body, plus the skin, muscles, nerves and glands. The increased circulation of the blood and lymph flow also assists with the clearing away of toxins from the body.
You can choose just one, or up to five different essential oils suitable for your own particular needs and add them to your carrier using a total of 5 drops to 10ml (1 tablespoon) of carrier oil or lotion. If you have particularly sensitive skin use only 3 drops of oil to every 10ml of carrier.
Bathing
Nothing beats a warm soothing bath at the end of a stressful day, and adding relaxing oils such as Roman Chamomile, Clary Sage, Lavender, Sweet Marjoram or Sandalwood makes it a truly blissful experience. Alternatively you can use stimulating oils such as eucalyptus, lemongrass or rosemary in the morning to give you an invigorating start to the day. This is probably one of the easiest ways to use essential oils.
Add 6 to 8 drops of oil to the water and agitate vigorously to disperse them evenly before getting in, or add a capful of Bath Dispersant to the water before adding the oils. Whilst relaxing in the bath you are breathing in the aromatic molecules of oil and they also penetrate the skin.
When using several essential oils together in a bath, ensure that you do not exceed a total of 8 drops. Citrus oils may be mildly irritating to some sensitive skins, so use no more than 3 drops. Bathing can be particularly helpful if used in combination with massage oils, but always take a bath first, and then apply the massage oil.
Footbath
Footbaths are great after you have been out walking, exercising or perhaps digging in the garden all day and your feet begin to complain. Comforting oils such as Black Pepper, Lavender, Roman Chamomile, Sweet Marjoram or Rosemary can really help to ease those aches and pains away.
When your feet are hot, a soothing and refreshing aromatherapy footbath using just one drop each of cooling and refreshing Peppermint, Rosemary and Lavender will bring blissful relief and have you back on your feet in no time at all. A footbath is the ideal alternative to a conventional bath for the elderly. You only need 3 or 4 drops of essential oil in a footbath.
Compress
This is a highly effective method for both pain relief and emergency first aid. Use a hot compress for relieving chronic pain, muscle aches, period cramps etc, and a cold compress for reducing swelling, sprains and headaches.
Put 4-6 drops of oil into very hot or icy cold water, and using a folded piece of absorbent material soak up the oils without fully immersing in the water, wring out excess and apply to the affected area. Finally, cover the area with a towel or wrap with polythene.
Steam inhalation
Used for centuries to help all respiratory tract problems, this method is a highly effective way to deliver essential oils into your system. Fill a large bowl with almost boiling water and add 3 or 4 drops of your individual oil or mixed blend. Close your eyes, lean over the bowl and breathe slowly and deeply for a few minutes until relief is felt. For best results place a large towel over the head and ensure it surrounds the bowl entirely to help direct the vapours.
If you suffer with blocked sinuses or congestion during the winter, you will find that using Cypress, Eucalyptus Radiata, Fir Silver, Frankincense, Peppermint, Pine, Ravensara or Tea Tree in your vaporiser can bring tremendous relief. When you have a case of the sniffles or a runny nose remember, these same oils all have highly effective antiviral properties too and are ideal to kill those nasty bugs.
Instant relief
This is another easy way to use essential oils, especially if you need instant relief when you are suffering from a cold, asthma attack or hay fever. Simply put 3 or 4 drops of essential oil onto a tissue or handkerchief and gently inhale directly from the tissue for instant relief. This quick and easy way to use essential oils to use is perfect when you are out of the house, and it is also the recommended method for asthmatics who should not expose themselves to steam-type treatemnts.
Vaporisers and burners
These devices enable you use essential oils effectively to clear stale cooking odours in the kitchen, clear a stuffy nose, ease a tickly cough, or create a harmonious and relaxing atmosphere anywhere in the home. The natural antiseptic properties of certain oils can also be employed during illnesses to kill airborne bacteria and help prevent the spread of infections.
You can choose from traditional candle-powered burners or modern temperature controlled electric models. The very latest electric designs atomize the oils without using heat and give the very best representaion of the oils true aroma.
Gargle
For a powerful bug-busting gargle add 1 drop of Tea Tree and 1 drop of Ravensara to a half-teaspoon of honey and mix together well. Add this mixture to hot water, take a small mouthful and gargle for about thirty seconds, then spit it out. Repeat the process several times, and for maximum effect you should use this treatment every 4 hours.
Lotion, creams & shampoos
Essential oils can be added to our unfragranced Professional Shampoo and Conditioner Bases to create your own personalised hair care products. After a footbath you can add a few drops of peppermint essential oil to a Carrier Lotion Base to complete the treatment and leave feet feeling cool, revived and refreshed.
If you would like to learn more about how to use essential oils in aromatherapy take look at our Aromatherapy Lexicon. It lists all the best oils for a wide range of conditions, plus it tells you exactly how to use essential oils for each ailment. Just one spin of the wheel indicates all the best essential oils for the chosen condition, plus it provides instructions how to mix and apply the oils safely. It couldn't be easier!
Copyright © Quinessence Aromatherapy Ltd 2002. Written by Geoff Lyth
If you enjoyed this article, please click the 'Like' button and help spread the word:
Next Essential Oil Safety