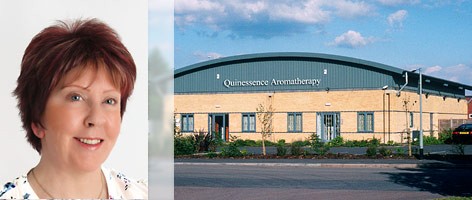 Sue Charles
Sue Charles (Fellow of English Société l'Institute Pierre Franchomme, S.P. Clin. Dip A, MIFPA, ITEC), is a Clinical Aromatherapist and teacher with over 20 years of experience. Sue is the marketing director and also the Senior aromatherapist at Quinessence, although much of her time is spent developing and sourcing new products.
Sue is an IFPA (International Federation of Professional Aromatherapists) registered Principal Tutor and runs her own teaching school where training is offered on a wide range of subjects. She was a Council Member of IFPA for 17 years, holding various positions such as Education Chair, Conference Chair, and Chair Person.
Trained at Boots
After leaving school, Sue worked for several years as a chemistry technician at a local university, and found herself drawn to a more pharmaceutical environment. She decided to take a two year training course in pharmacognacy at Boots the Chemist, which involved both written and practical exams every fortnight on all aspects of medicine.
After successfully passing all these examinations she became a fully qualified Dispenser, working both in-store and acting as a locum at various branches throughout the Midlands. Sue worked for five years at Boots before becoming disillusioned with allopathic medicine, eventually turning her attentions to alternative approaches to healthcare.
Complementary therapies
Since in the early 1980's, complementary therapies were still virtually unheard of, there were no jobs readily available, so Sue trained as a Legal Executive while she continued to pursue her interests in natural healing techniques. After passing her legal exams Sue had still not found a job within complementary healthcare, so she took a position at Leicestershire County Council in order to earn a living.
Whilst still working at LCC, Sue began studying shiatsu and later reflexology. Her interest in these subjects eventually led her to aromatherapy, which she took up with a passion. After gaining a diploma in aromatherapy, Sue set up her own clinic at home where she would treat clients over weekends and on evenings after work, often until 10.00 pm at night. Within 3 years she launched Quinessence Aromatherapy, and began dedicating her full efforts to the fledgling company.
Specialist care
Sue still finds time to run her private clinic, and after obtaining a pass in the Open University 'Death, Dying and Bereavement' section of the Diploma of Health and Social Welfare, Sue now specialises in the care of clients fighting cancer or who are terminally ill with various other conditions.
Along with Geoff Lyth, Sue lectures on a wide range of Aromatherapy subjects here in the United Kingdom and abroad. In collaboration in 1995 they wrote the best-seller, 'The Aromatherapy Lexicon - the Essential Reference'.
If you enjoyed this article, please click the 'Like' button and help spread the word:
Next Geoff Lyth