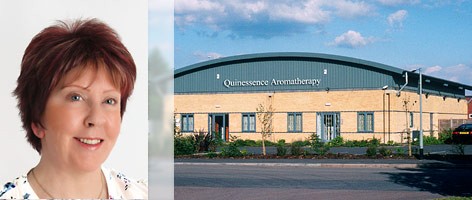 Sue Charles
Sue Charles (Fellow of English Société l'Institute Pierre Franchomme, S.P. Clin. Dip A, MIFPA, ITEC), is a Clinical Aromatherapist and teacher with over 38 years of experience in the aromatherapy profession.
Her adventure into aromatherapy began in 1983 when Sue began studying shiatsu and later reflexology. Her interest in these subjects eventually led her to aromatherapy, which she took up with a passion. After gaining a diploma in aromatherapy Sue set up her own clinic at home where she would treat clients during the evenings after her full-time job as a legal executive. Before long she would be working weekends too, often working with clients until 10.00 pm at night.
Demand for her dedicated services and expertly blended home-treatments grew so rapidly that within 3 years she had launched Quinessence Aromatherapy as one of the very first aromatherapy companies in the United Kingdom.
Sue is an IFPA (International Federation of Professional Aromatherapists) registered Principal Tutor and was a Council Member of IFPA for 17 years, holding various positions in the organisation such as Education Chair, Conference Chair, and finally as Chair Person.
In 1995, in collaboration with Geoff Lyth, she wrote the aromatherapy best-seller, 'The Aromatherapy Lexicon - the Essential Reference' which remains as popular today as ever, both with newcomers to aromatherapy and seasoned aromatherapists.
Sue continues her role in Quinessence as a consultant and as the senior aromatherapist providing expert help and advice to customers and enquirers. She is still involved with formulating aromatherapy products and writing informative aromatherapy articles for the Quinessence blog.
If you enjoyed this article, please click the 'Like' button and help spread the word:
Next Geoff Lyth