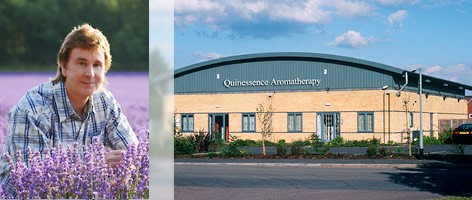 Geoff Lyth
Geoff Lyth (Fellow of the English Société l'Institut Pierre Franchomme, MPRS) is the Managing Director of Quinessence Aromatherapy and has led the company from its inception. He has held a fascination for the healing properties of essential oils since first being introduced to them in the early 1980's.
This attraction soon led to the formation of Quinessence Aromatherapy along with Sue Charles, and over the past 30 years he has been actively researching the bioactivity and application of essential oils for use in aromatherapy and natural skin and hair care products. The allure of essential oils also led to his interest in natural perfumery, of which he has been an enthusiastic exponent for many years.
Geoff is responsible for quality control and sourcing raw materials, spending considerable time throughout the year locating new organic producers of essential and vegetable oils, both here in the United Kingdom and overseas. Over the years he has built up trusted relationships with many growers and co-operatives around the world who use traditional farming methods to produce their crops.
In his capacity as the chairman of the Aromatherapy Trade Council (A.T.C.) Geoff worked tirelessly to raise standards of safety and quality in essential oils for use in the specialist field of aromatherapy. He was elected as Chairman of the A.T.C. when it was originally formed in 1993 and retained the position until autumn of 2020 when he chose not to stand for re-election. In all, he held the position of chairman of the ATC for 28 years, and continues to be involved in its operation.
Every year, the International Federation of Professional Aromatherapists (IFPA) recognizes a few individuals who have made a significant, sustained contribution to aromatherapy by electing them as Honorary Members. In 2007, this award was given to Geoff in recognition of his exceptional services to aromatherapy in his capacity as Chairman of the Aromatherapy Trade Council (ATC).
Together with Sue Charles, Geoff regularly lectures at a variety of venues both in this country and internationally to healthcare professionals on the subjects of aromatherapy and essential oils. Their joint publication "Aromatherapy Lexicon - the Essential Reference" has been a huge success, receiving critical acclaim from aromatherapy professional's, training schools and home enthusiasts alike.
Geoff also writes articles for leading magazines such as Choice Health and Wellbeing, covering aromatherapy related topics such as essential oil profiles, beauty tips and natural health.
If you enjoyed this article, please click the 'Like' button and help spread the word:
Next Ethical Policies