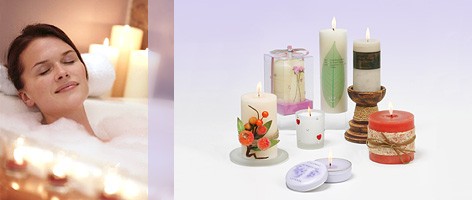 Aromatherapy Candles
Aromatherapy candles are scented with pure essential oils to bring a sense of peace, tranquility and harmony into your life. Because candles create a warm and welcoming atmosphere wherever they are used, they set the mood perfectly for all types of occasion in any location.
Candles were at one time used purely as a source of light, and the designs were plain, simple and without fancy perfumes. Today, candle making has been transformed into an art-form that provides an endless assortment of designs, sizes, colours and fragrances.
We offer a collection of high quality decorative, aromatherapy and unscented candles to suit your every mood. Beautifully presented, these candles make a perfect gift at any time of the year. Sit back and relax in the iridescent glow of a relaxing aromatherapy candle, and leave the stresses and strains of modern day life behind.
See a selection of Quinessence Aromatherapy Pillar Candles
Aromatherapy candle guidelines
Candles should be burned 1 hour for each inch of it's diameter before you extinguish it. For example, a candle with a 2" (5 centimetres) diameter should ideally be burned continually for 2 hours at a time before extinguishing it.
This allows the flame the necessary time to melt the wax pool right to the outer edge of the candle, causing the candle to burn down evenly. If you burn the candle for less time than this it will cause the candle core to burn down only in the middle, thereby shortening the candles life.
Always keep your candles away from drafts because it will cause an uneven burn and the wax to drip. If you see your flame flickering it means your candle is in a draft, so be sure to move it - after extinguishing it.
Keep your wick trimmed to about 1 centimetre. If the wick is too long it can cause your candle to smoke.
Safety
Always keep a burning candle within your plain sight. Never leave a candle burning unattended and remember to extinguish all candles when leaving a room or before going to sleep.
Never burn a candle either on, or near, anything that can catch fire. Burning candles should be kept away from curtains, furniture, bedding, or any paper materials such as books or magazines.
To avoid glass containers cracking, don't allow the candle to burn completely down to the bottom. Extinguish the candle about 1 centimetre short of the bottom. Glass containers become very hot, so allow the container to cool before attempting to move it.
Keep candles out of the reach of children and pets. Avoid placing lighted candles where they may be knocked over by children playing or pets.