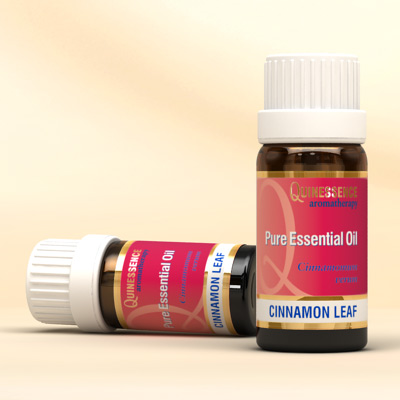 Cinnamon Leaf Essential Oil
Stimulating, antibacterial and fungicidal. Cinnamon Leaf essential oil contains around 80 percent phenols and is well-known for its antibacterial properties. It holds great protective powers that can be used in diffusers and vaporizers to protect against the spread of airborne bacteria.

It acts as a tonic to both the mind and body, bringing a welcome boost to cases of flagging energy levels, burn-out or a loss of mental focus, and it's a great oil to use when driving long distances. The stimulating action of Cinnamon Leaf essential oil also makes it an effective component in massage blends for maintaining the immune system.
Cinnamon Leaf essential oil stimulates a sluggish circulatory or digestive system, and when used in massage blends its warming and antispasmodic action eases muscular aches and pains, arthritis and rheumatism.
The Scent Of Cinnamon Leaf Essential Oil
It has a distinctly festive aroma and is known for creating feelings of romance, particularly among males. Extracted from the leaves of the tree, Cinnamon Leaf essential oil has a warm and spicy fragrance which blends well with a wide range of essential oils, especially the citrus ones, or it can be enjoyed just on its own.
Buy with confidence – 30 Day Money-back Guarantee
Not tested on animals – learn more
Botanical Name:

Cinnamomum verum / C. zeylanicum

Country of Origin:

Sri Lanka

Extracted From:

Leaves

Extraction Method:

Steam distillation

Principal Constituents:

Eugenol, Caryophyllene, Linalool, Cinnamaldehyde