Essential Oils For A Romantic Christmas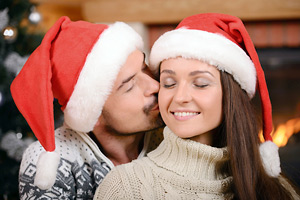 Forget Valentines Day – Christmas is the best time for romance!
Nothing pulls on the heart strings quite like the festive season, with cold nights perfect for snuggles in front of the fire and fairy lights setting a magical mood.
During Yuletide it feels like anything could happen, and a survey of 7,000 people by Chillisauce.co.uk found Christmas Eve ranked as the best day to propose, recording a vote of 32 percent by those surveyed. So under such perfect circumstances for romance, what could possibly go wrong . . .
Well, the reality is that for many couples Christmas is a really stressful time when romance can find itself pushed firmly onto the back-burner. After all the party-planning and prezzy shopping there's just not enough energy and enthusiasm left for romance. But don't worry – if you want to bring the love back into your life this festive season, essential oils can be the perfect addition to your Christmas plans.
Some essential oils have aphrodisiac properties that are perfect for instigating romance. In ancient Egypt, essential oils were used to promote health, beauty, fertility, virility and romance, and Cleopatra used oils on her royal barge to seduce Marc Antony. The ancient Greeks and the Romans also used fragrant oils and massage to stimulate passion.
Some of the best essential oils for romance include cinnamon, ginger, sandalwood, ylang ylang, patchouli, rose and neroli. This is because these essential oils are considered to be aphrodisiacs.
What are aphrodisiac essential oils?
Research has revealed that essential oils influence the brain by causing its complex chemistry to subtly change. During controlled experiments it has been observed many times that essential oils will produce specific and repeatable emotional responses in an individual. The legend of Cleopatra records how she used the exotic aroma of rose petals to entice Mark Anthony into her bedroom, and we all know how that worked out!
Aphrodisiac essential oils are classed as those that can stimulate sexual desire or promote a feeling of romance that enhances making love. These essential oils can be used in a warm bath, in a sensual massage, or simply add a few drops to your aromatherapy burner or diffuser to arouse the passions within.
Bath – add eight drops (in total) of your chosen essential oils to a warm bath and agitate the water to disperse the oils.
Massage – Add four to five drops of essential oils to 10ml of carrier oil or lotion.
Burner or vaporiser – Add a few drops of the oil to the device of choice and allow the aroma to fill the room.
Aphrodisiac essential oils stimulate the limbic system in the brain, which is where moods and emotions are controlled. This leads to a series of emotional and physical responses associated with romance.
Oils to stimulate romance
Cinnamon – Cinnamon Essential Oil has a distinctly festive aroma and is known for creating feelings of romance, particularly among males. Cinnamon leaf blends nicely with all citrus oils or can be enjoyed just on its own.
Ginger – Another classic Christmas aroma, ginger essential oil is spicy, exotic, and full of eastern promise! This makes it perfect for rekindling passion and setting a romantic festive mood. Ginger is another oil that works well on its own or blended with others, such as lavender, ylang ylang, geranium, and sandalwood.
Sandalwood – This oil is known for its meditative and relaxing properties, but it is also classed as an aphrodisiac. Sandalwood has a sweet, woody aroma with earthy base tones, and it is perfect in massage blends for men. It blends really well when used as the base note in blends with rose, neroli, lavender, ginger, and ylang ylang.
Ylang ylang – One of the most well-known aphrodisiac essential oils, ylang ylang has a sweet floral-type aroma. In Indonesia, flowers of ylang ylang are laid out on the bed of the bride and groom, as it is believed to help with sexual potency. Ylang ylang essential oil is another example of one that can be fully appreciated on its own, or used as a middle and top note in blends.
Patchouli – An essential oil with a unique earthy, sweet-spicy aroma, patchouli has long been associated with the 1960s – the decade of free love. Because of this, it may work through sense memory for those who survived the 60's, but it is also a great aphrodisiac oil on its own!
Rose – This oil was prized by the ancient Egyptians, Greeks and Romans for its romantic and alluring properties. It is incredibly sensual, but of course true rose essential oil is not cheap as it takes around 3,000 kilos of rose blossoms to distil just one kilo of rose oil. So reserve it for someone who's really worth it!
Neroli – This essential oil is derived from the blossoms of the bitter orange tree, which have been used as a symbol of innocence, purity and fertility for hundreds of years. Neroli essential oil is intoxicating and has a beautiful fresh and floral aroma. And surprisingly, despite its floral-type aroma, most men find the smell of neroli oil absolutely irresistible!
The easiest way to enjoy the mood-enhancing effects of essential oils is to use a burner or diffuser to disperse their therapeutic effects. However, an aromatherapy massage is probably the most enjoyable way for you and your partner to enjoy the seductive power of odours because of the sensuality of touch.
You don't necessarily have to do a full body massage either, because a back massage can be just as seductive. If you prefer, try a simple but relaxing neck and shoulder massage. Don't be afraid to experiment with your essential oils to discover what works for you. With the right partner, it's a lot more fun than you ever had in the science lab at school!
Copyright © Quinessence Aromatherapy Ltd 2021. Written by Geoff Lyth