Aromatherapy Tips for a Stress-Free Christmas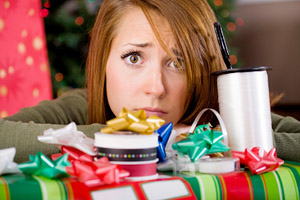 As we hurtle towards Christmas once again, you may find that the 'spirit' of the celebrations starts to get a bit lost in the hustle and bustle of preparing everything.
The festive season which used to be so magical seems to become more about sales marketing with each passing year as the commercial bandwagon thunders louder and longer through the lead up to Christmas.
Given the current financial squeeze, this year ignore all the frenzied hype and enjoy a calm and stress-free Christmas by utilizing your essential oils and a bit of sensible planning. If you follow these simple tips you will be able to cope better personally, plus you will also create a seasonal atmosphere in your house for friends and family to enjoy.
Stress-free Christmas shopping
First tip – forget about battling for that last remaining car park space and trudging around the shops – buy your gifts and food online this year. What with the cost of petrol, car parks, and the strain on your nerves, it makes far more sense to stay at home and shop online these days. For some people even online shopping can be frustrating and stressful, so if you find yourself getting tense you should vaporize some soothing and calming essential oils such as petitgrain, lavender, linaloe, Roman chamomile or ylang ylang.
If you prefer to do your shopping off-line, then pounding the pavements in search of all those prezzies usually results in tired and aching feet. Nothing beats a soothing and refreshing footbath for bringing blissful relief when you get home, plus you get the bonus of a few minutes of peace and quiet to yourself. Fill a bowl with nice hot water, and then add one drop each of refreshing and cooling peppermint essential oil together with reviving rosemary and lavender essential oil, and soak for five minutes. There's no better way to revive and soothe your tired tootsies.
Delegate, delegate, delegate
Here's a simple tip to help keep peace on earth this Christmas; don't try to do everything on your own – get everyone in the family to help with the holiday arrangements. Draw up your plans and then allocate the various roles to family members. Remember, you can't do it all singlehandedly, so allocate their areas of responsibility in advance, and get them committed to seeing things through. Set realistic goals, accept that everything won't get done, and then enjoy a real sense of achievement as you tick off the completed tasks.
If things don't work out as planned don't work yourself into a sweat – just crank up your aromatherapy diffuser! A soothing blend of lavender, grapefruit and ginger essential oil in equal proportions quickly dispels a Christmas stress attack, and it smells absolutely gorgeous too. The refreshing nature of grapefruit blended with the stimulating and grounding properties of ginger essential oil will put you back on track in double-quick time.
Pace yourself
Here's another simple tip to help you enjoy a stress-free Christmas – prepare your veggies late on Christmas Eve so you can take things a bit easier preparing Christmas dinner the next day. And as well as not having to get up at the crack of dawn here's another benefit to this strategy – and you can now use the time you've saved to enjoy a nice relaxing aromatherapy bath. Go on, pamper yourself – you've earned it!
Run a warm bath and add 2 drops each of rose, lavender, and geranium essential oil, and agitate the water to disperse the oils evenly. A soothing soak with this ultra-relaxing blend will ensure that you have at least 15 minutes of pure relaxation before the festivities begin, so be sure to make the very most of it! If you don't have these oils just substitute them for your own personal favourites, and indulge yourself a bit before the big event.
'It's beginning to smell a lot like Christmas . . .'
The Christmas tree occupies a central spot and is the most visible display of Christmas in most homes – but what if you prefer an environmentally-friendly artificial tree at home? Simple – you can add a touch of true nature to your tree without suffering all the falling needles by using a little pine essential oil in a diffuser or burner.
You could also combine grapefruit with either of these essential oils to add a refreshing touch of citrus freshness. If you don't have a vaporiser you can put a few drops of the essential oil on cotton-wool balls placed at the base of the tree, and there you go – instant pine forest!
Keep your essential oils and hydrosols close to hand throughout the festivities and you are sure to have a great time whatever you do. If you would like more ideas about which essential oils to use at Christmas, see our article on Aromas For A Truly Festive Feeling This Christmas. And remember – at the first sign of festive fatigue, just reach for those oils and crank up your vaporizer and enjoy a stress-free Christmas!
Copyright © Quinessence Aromatherapy Ltd 2022. Written by Geoff Lyth