Survive Lockdown Living With Aromatherapy Baths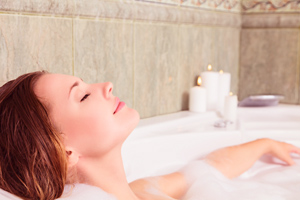 If you successfully managed to rearrange all your holiday plans in time for Christmas this year after the last-minute decision by the Prime Minister to scrap the relaxation of lockdown rules, then you deserve a medal!
There's nothing more stressful than having to change all your carefully made plans and rearrange everything at the last minute – especially at Christmas time. Of course, this was not the first time government rules have been changed at the last minute during the last 9 months of lockdown-living. That last minute U-turn by the government cancelling the relaxation of rules put an end to everybody's relaxing Christmas break.
So the chances are pretty good that a soothing and relaxing remedy for both your mind and body would be well in order right now – especially with at least another 6 weeks of being house-bound ahead. But where do you start – you can't book an appointment at the a spa or beauty salon, your hairdressers, or anywhere else for that matter during the latest lockdown.
Aromatherapy bath soaks
Thankfully, aromatherapy provides us with the perfect solution to your dilemma in the form of a long, lazy, soak in a bath-tub containing restorative and relaxing essential oils. What could be easier – or more therapeutic? There is little in life that holds more appeal than the simple pleasures of a hot aromatherapy bath in chilly winter during a global pandemic.
Helping your body to completely relax is an important part of looking after your health. Deep relaxation calms an over-worked nervous system and brings about many other health benefits as well, including stress reduction and the control of stress-related conditions. It is also important that your body is given energizing and uplifting treatments too, since this also contributes to better mental health and well being as well. It is very difficult to take proper care of the body when the mind is stressed and unhappy.
Essential oils for a relaxing bath
To help set the scene for luxurious soak in the bath put on some soft and soothing music, light a couple of candles or tea-lights and you will soon begin to forget about the stressful lockdown. There are many relaxing and reviving essential oils you can add to your bath – simply choose your favourites from the list below.
These essential oils all blend together very easily to provide a wide range of fragrant herby or flowery notes for creating your perfect aromatherapy bath:-
• Bergamot – uplifts emotions
• Cedarwood Virginian – relaxing base note
• Chamomile Roman – calming, eases aches
• Clary Sage – deeply relaxing & de-stressing
• Frankincense – meditative and enlightening
• Geranium – balancing and soothing
• Jasmine – relaxing and strengthening
• Lavender – soothing and relaxing
• Linaloe wood – relaxing and refreshing
• Marjoram Sweet – calming, eases aches
• Melissa – calms panic attacks
• Neroli – deeply relaxing & de-stressing
• Palmarosa – balancing and soothing
• Petitgrain – soothing and relaxing
• Rose – deeply relaxing & de-stressing
• Sandalwood – relaxing base note
• Ylang Ylang – calming, soothing and relaxing
How to use your chosen essential oils
Add up to 6 to 8 drops of essential oils (in total) to the water and agitate vigorously to disperse the droplets evenly before getting in, or add a capful of Bath Dispersant to the water after adding the oils and agitate the water thoroughly. It's important to ensure you don't get droplets of undiluted oil on your skin as it can cause irritation.
Citrus essential oils such as bergamot, grapefruit, orange and mandarin are wonderfully refreshing, uplifting, and revitalizing, but don't add too many drops of them since like spice oils, they could irritate your skin. If you do choose to use citrus oils, limit them to no more than 3 drops out of the 6 – 8 normally used in a bath.
Try two drops each of ylang ylang, lavender and bergamot essential oils to the tub and feel the soothing and calming effect dissolve all your worries about the challenges and difficulties of lockdown living. Equal measures of Roman chamomile, lavender and geranium also make a fantastically soothing and comforting blend to help carry you through this challenging time.
The relaxing and soothing effect of the essential oils helps to ease aching tired muscles, while soothing away the emotional stresses and strains of living through the current situation of constantly changing rules and regulations. Aromatherapy baths are pure and simple luxury, and a much cheaper treatment than a trip to a spa or beauty salon anyway! Most importantly, using your essential oils to bolster your flagging spirits will help you cope with the latest lockdown and give you a well-earned treat to look forward to each week.
Copyright © Quinessence Aromatherapy Ltd 2021. Written by Sue Charles