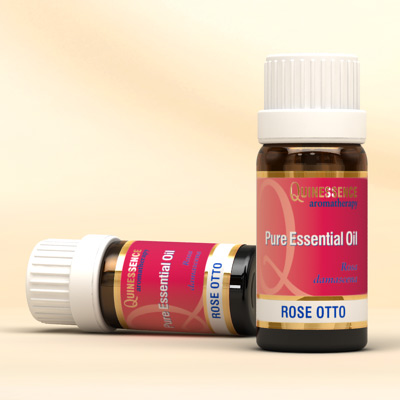 Rose Otto Essential Oil
Rejuvenating, relaxing and balancing. There is quite simply, no other oil used in aromatherapy quite like Rose Otto Essential Oil in regard to fragrance and therapeutic healing benefits. It has a beautifully feminine aroma that is perfect for skin care, where it soothes, softens and hydrates the skin whilst bringing a gentle toning action that helps to strengthen the collagen-elastin network. This network is what keeps your skin soft, supple, radiant and young-looking.
Rose Otto Essential Oil gives a boost to tired, lifeless skin that is need of rejuvenation, balances combination skin, and it is absolutely unsurpassed when treating dry, mature or ageing skin in need of deep moisturisation. It reduces fine lines and wrinkles, and its mild astringent action is effective in fading those unsightly broken capillaries (spider veins) and red patches when used regularly in your skin care routine. Just add a few drops of this precious oil to a cream or lotion base and you will both see and feel improvements in the tone, softness and radiance of your skin.
Often described as the ultimate feminine oil, Rose Otto Essential Oil is invaluable for all types of gynaecological, menstrual cycle and menopausal problems. During such times of physical and emotional upheaval, this oil should be your number one choice since it regulates menstruation, eases cramps and balances negative emotions such as anxiety, fear (of change) and all forms of impatient and snappish behaviour! Rose Otto is quite simply pure, unashamed luxury!
Please note: Rose Otto is rich in waxes that solidify at cool temperatures. Just holding the bottle in your hand for 1 minute will warm the oil sufficiently to liquefy it.
Buy with confidence – 30 Day Money-back Guarantee
Not tested on animals – learn more
Extracted from the species Rosa damascena, Rose Otto Essential Oil holds a special place in the hearts of all who love aromatherapy and natural perfumery. Also known as 'Attar of Roses', it tones the digestive and vascular system with a stimulating effect that increases the circulation, and a cleansing action that promotes the elimination of toxins.

Speaking of stimulation; it was said that Cleopatra procured Mark Anthony's love by adorning her bedroom floor and bed with rose petals, therefore it comes as no surprise to learn that rose oil is indeed an effective aphrodisiac!
In Bulgaria, the rose blossoms of Rosa damascena begin to bloom around the third week of May, and will continue for three or four weeks depending upon climatic conditions. The collection of flowers starts as soon as the blooms begin to open and continues until all the roses have been gathered. In Bulgaria and Turkey the blossoms are still collected by hand in the time-honoured way, and are nipped just below the calyx (the green, outer protective cover).

Collection of the flower heads begins at sunrise when the oil yield is at its highest, and should be completed by 10.00 am whilst the dew is still on the flowers. The flowers are initially placed into baskets, and then transferred to sacks for transportation to the distilleries.

Rose otto essential oil is extracted by steam distillation and the total yield will depend upon several conditions including climate, the time of the harvest, condition of the flowers and the expertise of distillers. During the middle of the harvest period the yield is higher than at the beginning, and mild weather will result in a further increase in the oil produced.

On average, Rosa damascene flowers will yield 1 kilo of essential oil from 4,000 kilos of flowers using modern distillation processes. Under very favourable conditions only 2,600 kilos of roses may be required to produce 1 kilo of oil, whereas under less favourable conditions up to 8,000 kilos of flowers may be required to produce the same amount of oil. A very simple reference for calculating the yield of Rosa damascena; it takes 30 rose blossoms to produce 1 drop of oil!

Hardly surprising this beautiful essential oil is not cheap!
Botanical Name:

Rosa damascena

Country of Origin:

Bulgaria

Extracted From:

Flowers

Extraction Method:

Steam distillation

Principal Constituents:

Citronellol, geraniol, stearopten, nerol, neral, linalool, phenylethyl alcohol, trans-farnesol, trans-b-damascenone, cis-rose oxide.