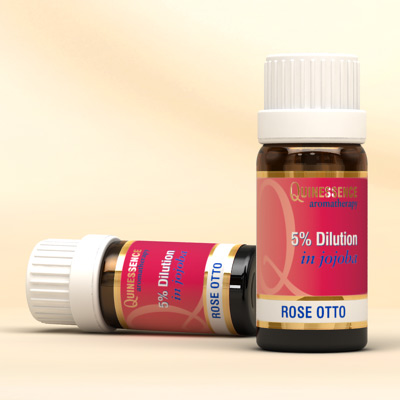 Rose Otto 5% Dilution
Rejuvenating, relaxing and balancing. Rose otto essential oil is the ultimate in rose oils, delivering the widest range of highly effective, therapeutic properties of all the available types and forms of this oil. The aroma of this precious oil is absolutely divine and is usually the preference of most people, especially professional aromatherapists who use for its broad range of uses.
When used in beauty treatments Rose Otto Essential Oil provides a welcome boost to listless, lifeless skin that needs revitalising, whilst restoring balance to combination skin. This is one of the most effective essential oils for rehydrating flaky, dry, mature or even ageing skin, and during the feminine cycle, it is unsurpassed for calming down the mind and body through menstrual cycle and menopausal problems.
Used regularly in treatments, Rose Otto essential oil helps to reduce fine lines, wrinkles and age spots. Due to its gentle astringent action this oil is excellent for fading and reducing unsightly broken capillaries (spider veins) and red patches. Simply add a few drops of Rose Otto 5% Dilution to a professional cream or lotion base and soon you will both see and feel improvements in the tone, softness and radiance of your skin.
Buy with confidence – 30 Day Money-back Guarantee
Not tested on animals – learn more
Botanical Name:

Rosa damascena

Country of Origin:

Bulgaria