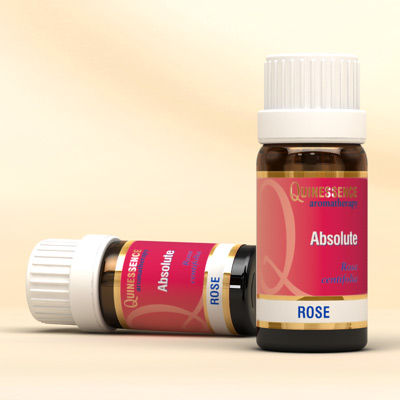 Rose Absolute Oil
Balancing, rejuvenating and relaxing. The beautifully feminine fragrance of Rose Absolute is deep, rich, rose-floral with a hint honey, and it has a balancing and deeply relaxing effect on mind and body. It also has a legendary reputation as an aphrodisiac - the legend of Cleopatra records how she used the exotic aroma of rose to entice Mark Anthony into her bedroom, and we all know how that worked out!
Rose Absolute is the perfect anti-aging oil; it softens and hydrates dry skin and helps to eliminate unsightly red and irritated patches whilst reducing fine lines and wrinkles. Rose has a gentle toning and astringent action that helps strengthen the collagen/elastin network helping to lift skin and keep it feeling soft and youthful. It also helps repair unsightly broken capillaries (spider veins) and acne scars when used regularly in your skin care routine.
Rose is often described as the definitive feminine oil since it is invaluable for all types of gynaecological, menstrual cycle and menopausal problems. During physical and emotional upheaval, Rose Absolute should be your number one choice since it regulates menstruation, eases cramps and balances negative emotions such as anxiety, fear (of change) and all forms of impatient and snappish behaviour!

Rose Absolute is also available from Quinessence as a 5% Dilution.
Quinessence has over 30 years experience in distributing aromatherapy products
Buy with confidence – 30 Day Money-back Guarantee
Not tested on animals – learn more
Botanical Name:

Rosa damascena

Country of Origin:

Bulgaria

Extracted From:

Flowers

Extraction Method:

Solvent/alcohol extraction

Principal Constituents:

Phenylethyl alcohol, Citronellol, Geraniol, Nerol, Farnesol, Benzyl alcohol, Eugenol, Geranyl acetate, Linalool, Methyl eugenol.