Quinessence Scoops Top Award!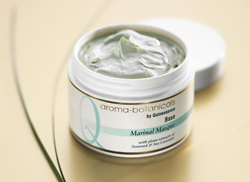 As well as commemorating the arrival of Spring last month, we also celebrated picking up our latest award at the Natural Health magazine Beauty Awards 2009!
We were honoured and delighted that for the 5th year in succession, a product from our Aroma-botanicals® natural skin care range has won acclaim from the beauty experts at the prestigious Natural Health magazine.
In the category of 'Best Cleansing Face Masks' Quinessence fought off extremely stiff competition to scoop the 'Highly Commended' award for our Aroma-botanicals® Marinal Masque.
Quinessence purifying natural Marinal Masque has a concentrated, triple action formula packed with a rich harvest of marine phyto-nutrients plus organic Geranium and Lavender essential oils to lift impurities, revitalise and tone the skin.
Natural Health magazine said, 'This product feels like someone has scooped up mud from an exotic location and bottled it! The aroma is deliciously non-artificial and the mask is clay based, with ingredients such as Sea Lavender, Algae, Irish Moss and Seaweed supplying its marine-like attributes'.
The stimulating and toning action produced by this facial wash-off mask tightens skin tissues, leaving it feeling lifted and firmer. And best of all, it's safe enough to use on all skin types – even sensitive skin that's easily irritated.
The Natural Beauty magazine claim to conduct the most comprehensive product reviews in the industry, testing 1000's of products from 80 brands covering 6 different categories. This year our skin care products we were competing with leading brand names such as Aveda, Burts Bees, Decleor, Dermalogica, Dr Hauschka, Elemis, Jurlique, Lush, Neals Yard and Weleda.
Learn more about Aroma-botanicals Marinal Masque
Copyright © Quinessence Aromatherapy Ltd 2009