4 Easy Tips For Winter Nutrition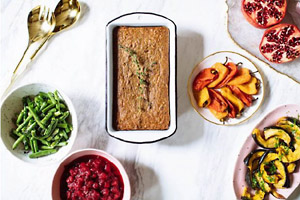 When the temperature is dropping outside, most people want to cozy up inside with their favorite winter comfort foods.
Stopping by your favorite restaurant on your way home from work is all too easy, but months of eating heavy, satisfying dishes isn't good for your health.
With bold flavors, nutrient-dense ingredients and a few cooking tricks, sticking to a healthy winter routine is simple. Dietitian McKel Hill, MS, RDN, LDN and founder of Nutrition Stripped, offers her top tips:
Focus on real, whole foods
Stay away from fast food and artificial ingredients and instead stock up on whole foods like leafy greens, nuts and fruits. Find recipes that help you recreate your favorite comfort food recipes in a healthy way, like a vegan fettuccine Alfredo. If you're entertaining guests, a plant-based entree ensures that most guests can share in the meal. For example, a vegetarian nut loaf is a dense and hearty base that you can spice up by roasting Brussels sprouts, carrots and sweet potatoes, with rosemary for added fiber and nutrients.
Find the right tools
When you're hungry, you need cooking tools that will help you get the job done faster. LG's smart ovens with ProBake Convection(TM) ensure even baking and consistent browning every time, and their large capacity allows you to cook several dishes at once. You can roast a pan of veggies and your lean protein all at once – you won't have time to snack on junk food. You can also check the status of your dish from your smartphone, instead of spending so much time in the kitchen.
Plan ahead
Plan your meals ahead of time so you know what's on the menu. You won't be tempted to stop and pick up takeout if you have all the ingredients for a delicious meal at home. But despite your best efforts, life gets in the way of even the most perfectly planned meal. Select LG electric oven models allow you to preheat remotely from your phone when you're stuck in traffic or in a long line at the store.
Keep healthy snacks on hand
Encourage yourself to make healthy choices all day with packable snacks on hand. Put pre-portioned carrots and hummus or tuna and crackers in your refrigerator for when you need an energy boost. The LG InstaView refrigerator's Door-in-Door feature allows you to reach in and grab items without opening the main door and dispelling cold air. It's ideal for putting nutrient-packed snacks and beverages front and center.
A nutrient-dense diet doesn't have to mean giving up your favorite foods. Follow these tips to feel energized and satisfied during the chilly winter months. For more cooking tools and tips, visit LG Home Appliances.
Article Copyright © BPT 2019