How to Make An Essential Oil Air Freshener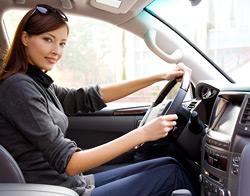 I absolutely love little tips that show you easy ways you can use essential oils to improve the quality of daily life. So when I came across this great little article about making your own natural car air-freshener using essential oils and a piece of felt I just had to share it with you all.

If you're anything like me you probably hate the usual sickly-smelling car air-fresheners that are laced with synthetic chemicals, and would much prefer to use something natural. If you own a pair of scissors and have a spare piece of wool felt, this great little article shows you just how easy it is make your very own, environmentally friendly, aromatherapy air-freshener.
Of course, these great little air fresheners can be used anywhere around the home as well as in the car . . . let your imagination run riot. Enjoy.
*********************************************************
How to Make Your Own Natural Car Air Freshener with Wool Felt and Essential Oils
Like the look (and smell!) of those cute hanging car air fresheners? You can make your own all-natural car air freshener, one that has no toxic ingredients, that can be any shape and color that you want, and that emits your absolute favorite scent for your driving pleasure.
The secret to this project is wool felt. Wool felt is a little thicker and stiffer than recycled plastic felt, which means that it will hold a simple shape well without curling when it's hung. Wool felt also comes in a ton of amazing colors, so you'll have a LOT of options for your air freshener.
Cut it out! Cut out a simple shape, about 4″ tall, from wool felt. I used my Cricut to cut out a basic tree shape (but not THAT tree shape!) from paper, and then used that as a template to cut the same shape from felt.
Make it smelly! Drop several drops of your favorite combination of essential oils right onto the wool shape. Essential oils are a natural source of scent, and you can always benefit from aromatherapy in your car–for instance . . .
For photos and complete instructions, see the complete article here.
_________________________________________________
Copyright © Quinessence Aromatherapy Ltd 2012. Written by Sue Charles Original article Copyright © 2012 Julie Finn, www.craftingagreenworld.com