The Power Of Sound For Beating Stress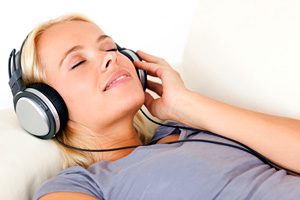 Between 2018 and 2019, over 12.5 million days of work were lost due to mental health problems, such as stress, depression and anxiety, according to figures from the Health and Safety Executive.
The United Kingdom as a nation seems to have a stress problem, and all of us will have felt its effects from time to time, with reportedly 526,000 workers suffering from work-related stress, depression or anxiety.
During such periods of anxiety, it's important to take extra care to look after your health and wellbeing so that you're better able to deal with the daily pressures and trials life throws at you.
We know that aromatherapy and meditation can help with this, but can sound also help to tackle feelings of stress when they arise?
The therapeutic effects of sound
Focusing on external sounds is one technique used in the practice of mindfulness, so it makes sense that sound can have a powerful effect on the mind. Research has shown that when it comes to stress relief, sound has positive applications.
Jean Tang, assistant professor in the College of Nursing at Seattle University, and her team observed in 2008 that audio relaxation programmes lowered blood pressure – one of the main indicators of stress – more than a Mozart sonata in a group of elderly people.
Among the 41 participants in the study, 20 were given an audio-guided relaxation training programme that contained sounds of ocean waves and a calming voice, while the remaining subjects listened to a 12-minute Mozart sonata three times a week for four months.
Those on the audio-guided programme lowered their blood pressure from 141/73 millimeters of mercury (mmHG) to 132/70 mmHG. Heart rates dropped from 73 to 70 beats per minutes. Among the Mozart listeners, blood pressure levels fell from 141/71 mmHG to 134/69 mmHG, while heart rates went from 69 to 66 beats per minute.
Further studies have shown that music really can positively impact upon anxiety and stress levels. A study in the open access, peer-reviewed scientific journal 'PLOS One' showed that listening to music effects the psycho-biological stress system. Indeed, listening to music before a stressful experience allowed the nervous system to recover quicker from the stressful event, while the endocrine and psychological stress response was improved.
'As listening to music has the capacity to initiate a multitude of cognitive processes in the brain, it might be assumed that music also influences stress-related cognitive processes and, as a consequence, physiological responses,' the study explained. 'Previous investigations found reductions in perceived levels of psychological stress, increased coping abilities, or altered levels in perceived relaxation after listening to music in the context of a stressful situation.'
While research has yet to prove that all music has the same effect, certain sounds and melodies have been linked to improved stress response, management and recovery. Nature sounds in particular have been known to soothe and calm stressed individuals, grounding and restoring mental balance.
Integrating sound into relaxation routines
To feel the benefits of sound, it's best to use specifically composed relaxing music. There really are no rules about when you should use it as a therapy, but to maximise its effects it certainly pays to combine it with other stress-busting activities.
This might be whilst having an aromatherapy massage, or simply enjoying a warm soothing aromatherapy bath. Indeed, relaxing in the warm water while inhaling essential oils and listening to music can be absolutely heavenly. To really get the most out of the experience add up to eight drops of essential oils to the water and agitate it to disperse them.
Lavender, clary sage, sweet marjoram, and ylang ylang essential oils are good for general relaxation, but better still is a synergistic blend of expertly-blended stress-busting oils such as Stress Synergy since these oils also help you think more clearly and cope better under stress.
Sound can also be integrated into meditation and by focusing on the music, it becomes much easier to clear the mind. For those that struggle to get to sleep, practice meditation with sound prior to bed. This will ensure the mind is soothed and able to drop off into a sound sleep.
If you find yoga helps to relieve your stress levels, then there's no reason why you can't pop some relaxing sounds on in the background. The right music may be particularly useful as the melody can help you smoothly move through the poses.
Getting the right balance
When it comes to relieving stress and anxiety, the key is to find the combination of elements that works best for you. For example, if you find listening to nature sounds in the car works best, then just do it – there really are very few rules when using sounds to help relieve stress.
The important thing is that you discover an enjoyable way to clear and soothe your mind of negative thoughts and restore balance. This will help to protect both your physical and mental wellbeing.
Copyright © Quinessence Aromatherapy Ltd 2021. Written by Geoff Lyth