Argan Oil – Morocco's Liquid Gold!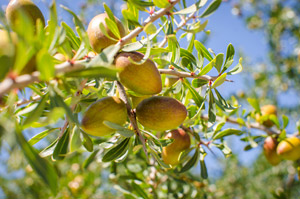 The latest addition to our range of carrier oils is Argan oil, and the chances are you have probably already heard or read about this amazing hot beauty 'secret' – which is probably one of the rarest vegetable oils in the world.
Those of you with a good memory may recall that we used to stock this oil back in 2001, but we had to discontinue it due to difficulities in getting regular supplies. Thankfully, this problem has been solved by the development of several new argan oil cooperative producers.
Argan oil is a deeply nourishing vegetable oil rich in vitamin E, flavonoids, polyphenols, carotenoids, ferulic acid and antioxidants, making it ideal for use in aromatherapy to care for dry skin and wrinkles. It's rich, complex and unique chemical composition deeply nourishes the skin helping to soften wrinkles and protect against the damaging effects of premature aging. No wonder it's known as 'liquid gold' and 'Moroccan gold' in the beauty industry!
Rich in proteins, argan oil strengthens the protein bonding structures which tightens skin and improves its elasticity whilst at the same time it has a regulating effect on sebum, promoting production of this vital substance for dry skin or reducing its secretion with oily skin.
The spiny, gnarly argan tree (Argania spinosa) is an ancient species that once grew throughout Africa but is now found almost exclusively in the Souss Plains of south-west Morocco. Argan oil is obtained from the seeds found inside the stone of the fleshy fruits, which are a type known as drupes. After collection, the drupes are sun-dried for a few days and the central nut is separated and cracked open by hand using a small oval stone as a hammer to recover the seeds (kernels).
When the oil is intended for culinary purposes the seeds are roasted and then ground with a little water to extract the precious oil, whereas the unroasted seeds are used to produce argan oil intended for use in aromatherapy and cosmetics. Whichever method is used, this laborious and time consuming work is done solely by Berber women who are the only people with the ancestral knowledge of argan oil production. Depending upon the level of skill of a worker, it can take between 15 to 20 hours to crack enough nuts to produce just 1 litre of oil!
Argan oil is the ultimate all-round, natural anti-aging product that can be used for a multitude of purposes such as;
Protecting skin against wrinkles
Moisturising hair and nails
Reducing the appearance of crow's feet
Increasing elasticity of skin
Treating acne, eczema and psoriasis
Discover for yourself the amazing healing and beautifying benefits of this precious vegetable oil from Morocco. It's a great all-year-round oil, so with winter on its way now, you won't find a better natural product to care for your skin . . .
Learn more about Quinessence Argan Oil
Copyright © Quinessence Aromatherapy Ltd 2011