Lemongrass & Cedarwood Soap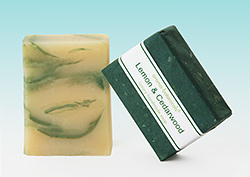 Revive, refresh and awaken your mind and body with this wonderful lemon-scented aromatherapy soap combining essential oils of Lemongrass, May Chang and Cedarwood Atlas, infused with moisturising Olive Oil, Palm Oil and Coconut Oil. To luxuriously soothe, pamper and nourish your skin, this natural botanical soap is enriched with the finest Shea Butter – the ultimate in natural moisturising nut butters.
The refreshing aroma and gentle astringent and toning action of this hand-made soap leaves you feeling fresh and revitalised thanks to the synergistic blend of stimulating essential oils. The luxurious rich and creamy lather produced by our gentle, long-lasting cleansing bars will leave your skin clean, velvety soft, and lightly scented.
As well as being a natural antibacterial, May Chang is also an effective deodorant making this soap perfect for showering and baths. The wonderful sparkling lemon-fresh aroma brightens up the dullest day and also means that this a cleansing bar the guys in your life will love too!
All three of the essential oils in this luxurious soap possess powerful antiseptic, toning and deodorant properties, plus Lemongrass essential oil tones the skin and helps to normalise overactive sebaceous glands, making it perfect to balance oily, acne-prone skin. Lemongrass is one of the most powerfully antiseptic of all essential oils, and ideal for a natural antibacterial soap.
Copyright © Quinessence Aromatherapy Ltd 2013