8 Seductive Essential Oils For Valentine's Day!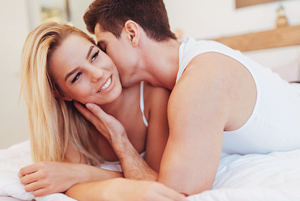 For many couples, Valentine's Day is one day of the year where they really want to share a special time and show their partner how much they love and care about them.
To celebrate the occasion, millions of cards, flowers, chocolates, perfume, love letters, and cute little stuffed furry animals are sent, given, and unwrapped every year.
Romantic dates at exotic venues are yet another way that some people choose to show their significant others how much they truly value them.
But this approach doesn't work for everyone; some couples leave it too late and can't get a reservation at the restaurant or can't face all the overcrowding and waiting to be seated. Many just get overwhelmed by the stress of trying to organize something special. Whisking your partner away on a surprise two-week-long exotic vacation may seem like an extremely romantic idea for a Valentine's Day gift, but it may not work out the way you planned!
So on Valentine's Day this year, why not try something different? Dim the lights and put some seductive essential oils in your vaporiser, light a few romantic candles and discover for yourself the flirtatious power of aromatherapy. By staying at home with the one you love (plus a few alluring essential oils) you'll enjoy a far more intimate experience than any meal in a crowded restaurant could bring you!
Seductive essential oils
Since the days of the ancient Egyptians, fragrant oils have been used to enhance health, beauty, fertility, virility and of course, love. The Greeks and others learned from the Egyptians precisely how to use oils and aromatics to increase passion, and this knowledge quickly spread throughout the world.
Today, modern research has confirmed that pure essential oils can influence the brain and cause the complex chemistry of the brain to change subtly. It has been observed many times that certain essential oils will produce specific and repeatable emotional responses in an individual. So which essential oils are the best to arouse the passions within? Here are eight of the best:
Don't pass up the chance of a little extra romance in your life – create your own special 'love potion' with your seductive essential oils which can be blended in a massage, added to a bath, or used in an aromatherapy diffuser or burner.
It's all about experimenting with your essential oils and finding what works for you and your partner. With the right combination of essential oils it can lead to a night of unbridled passion!
Copyright © Quinessence Aromatherapy Ltd 2022. Written by Geoff Lyth