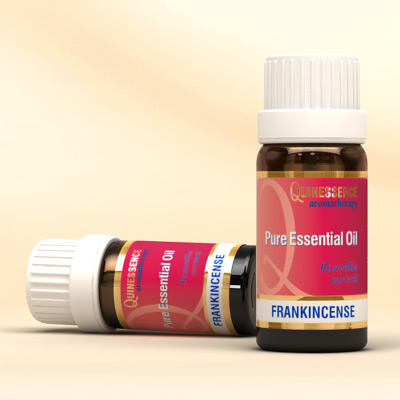 Frankincense Essential Oil
Rejuvenating, balancing and relaxing. Extracted from the small bush native to Africa, Frankincense Essential Oil has a unique fragrance which has been used in religious ceremonies and as an aid to meditation for over 2000 years. Its ability to calm a troubled mind is virtually unsurpassed, which is why the resin has been used for thousands of years in meditation and prayer.
The legendary rejuvenating powers of Frankincense Essential Oil are particularly valuable in skincare where it revitalizes dull, dry, mature or wrinkled skin when added to a base cream or lotion. For intensive facial treatments use it in massage oil blends with carrier oils such as Argan, Jojoba, Moringa or Rosehip.
Frankincense is also the perfect oil for reducing stretch marks, especially when blended with Quinessence Neroli, Helichrysum, Lavender, Rose or other rejuvenating essential oils.
How to use Frankincense essential oil
Pure Frankincense Essential Oil is extremely versatile and can be used in massage blends across a wide range of conditions such as skin problems as well as muscular aches and joint stiffness brought on by strenuous physical activity. When a few drops are added to a diffuser or burner it is excellent for creating a relaxing atmosphere that can be enjoyed by the whole family.
Buy with confidence – 30 Day Money-back Guarantee
Not tested on animals – learn more
Awesome

Awesome oils, the price is right and the quality of these oils is great. You can rest assured that these are genuine as Quinessence is registered with the Aromatherapy Trade Council. Great service.
Botanical Name:

Boswellia carterii

Country of Origin:

Somalia

Extracted From:

Resin

Extraction Method:

Steam distillation

Principal Constituents:

a-Pinene, n-Octyl acetate, a-Thujene, n-Octanol