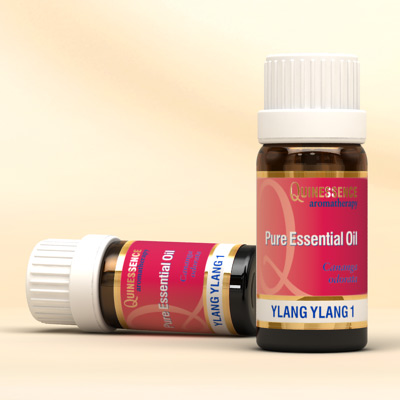 Ylang Ylang Essential Oil (Grade 1)
Antibacterial, balancing and relaxing. Ylang Ylang Essential Oil is distilled from the fragrant flowers of Cananga odorata, which is a tree originally native to South-East Asia but now grown in Comores and Madagascar for the production of oil. The name means 'flower of flowers', and the aroma of this irreplaceable oil is sweet and exotic with a hint of spice, and is powerfully floral. It is a complete fragrance within itself. Quinessence supplies Ylang ylang Grade 1 essential oil, all other grades except 'extra' and 'complete' are inferior in quality.
Ylang Essential Oil is valuable for both oily and dry skin types due to its balancing and soothing properties, and these qualities can be used in both skin care and hair care. In Victorian times ylang oil was the main ingredient in a hugely popular hair conditioning product known as Macassar Oil which even claimed to cure baldness! Added to a hair shampoo or conditioner base ylang oil acts as a tonic to the scalp, soothes dandruff, and produces soft and shiny hair.
The sweet exotic aroma of Ylang Ylang Essential Oil uplifts the spirit, relaxes the body and mind, and can put you in the mood for romance since it is considered an effective aphrodisiac and reportedly helps with impotence and frigidity. This is perhaps because it has both a euphoric and soothing effect on the nervous system which helps to ease the mind and counter stress.
Buy with confidence – 30 Day Money-back Guarantee
Not tested on animals – learn more
Botanical Name:

Cananga odorata genuina

Country of Origin:

Madagascar

Extracted From:

Flowers

Extraction Method:

Steam distilled

Principal Constituents:

Germacrene D, Benzyl acetate, Methyl para cresol, Linalol, a-Farnesene, Methyl benzoate, Geranyl acetate, Benzyl benzoate, Cinnamyl acetate.