Quinessence Aromatherapy On BBC TV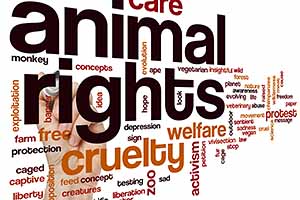 On 3rd October 2010, the BBC's Politics Show discussed the emotive subject of animal testing, and in particular the cruelty of testing cosmetics on animals.
Despite what you may think, the number of experiments conducted on animals in some countries has actually increased in recent years, and a former MP from Nottinghamshire says it's high time that this situation changed.
Now free from the Westminster treadmill, Dr Nick Palmer is working for one of the world's leading animal welfare groups, the British Union for the Abolition of Vivisection (BUAV). Like most people, he want's to see the end of animal experimentation in the name of beauty.
On the program, Nick took the cameras to the streets of Nottingham to show how the majority of people who want animals protected from this practice are unaware that its practice is still widespread. For example, even the high streets best known brand Boots the Chemist, still use ingredients in their products that have been tested on animals. Few people seem aware of this fact.
Dedication and commitment
As many of you already know, Quinessence has been a BUAV approved manufacturer for nearly 20 years, so Nick brought BBC reporter John Hess to Coalville to visit Quinessence to learn first-hand how dedicated and commited a company must be to manufacture products that meet the BUAV's stringent requirements. When companies discover precisely what they have to do to meet the requirements of membership, they often drop the whole idea and just put 'cruelty free' on their labels. But what exactly does this slogan mean anyway?
During an interview, Sue Charles and Geoff Lyth talked about the challenges of competing against companies who claim to be cruelty free in their marketing, but make no commitment and offer no evidence to support this statement. At present, there is no regulation to prevent a company from claiming to be 'cruelty free'.
Conscience versus profit
Members of the BUAV are subjected to annual audits where evidence is required to support their claims of 'no animal testing'. All ingredients used to manufacture a product are scrutinised to check they are not included on the list of those known to have already been tested, and suppliers of all raw materials must also sign a declaration of non-testing. Failure to meet these requirement results in the loss of membership for a manufacturer. But adhering to this can limit the range of raw materials that remain available for manufacturers to use in products.
Geoff explained, 'It's currently fashionable to have a self-tanning agent in face and body moisturising lotions, but unfortunately these ingredients have been tested on animals. And although we would love to offer our customers this sort of product, we can't whilst upholding the commitment we have made to support the BUAV.' This situation highlights the real difficulties faced by manufacturers with a conscience as opposed to those who put profit first. Many companies claim to be against animal testing, but they are not members of any organisation who conducts inspections of any type.
Sue and Geoff have argued for many years that testing cosmetics on animals is not reliable, because their skin does not react in the same way as ours. Today, computer simulations based on the results of years of testing can now predict the safety of ingredients and products far more accurately. As Sue explained, 'I love animals, and just think that when there are alternatives and choices, why would we want to put animals through unnecessary suffering when there's no need for it?'
BUAV's 'Profound disappointment'
Last week, the BUAV, together with their partners in the European Coalition to End Animal Experiments (ECEAE), expressed its profound disappointment at the lack of a significant decrease in the number of animals used in experiments across the European Union. This follows the publication of the Sixth Statistical Report by the European Commission which covers data collected by 27 Member States for the year, 2008.
• Total number of animals used in 2008 was just above 12 million which is a small decrease from 2005 (reported as 12.1 million).
• Main user countries continues to be France, UK and Germany,constituting approximately 55% of the total number of animals used throughout the EU. Germany use increased by 11% (to 2,021,782), UK by 21% (to 2,266,884) and France by 0.13% to (2,328,380).
• Significant increases in the number of animals used in certain countries, including Spain (increase of 51% to 897,859), Estonia (increase of 610% to 34,794), Ireland (increase of 197% to 112,835), Austria (increase of 32% to 220,456) and Portugal (increase of 22% to 50,888).
• Figures for certain species include: over 21,000 dogs (a decrease of 12%), over 330,000 rabbits (an increase of 7%) over 9,500,000 rodents (includes 11% increase in mice), over 4,000 cats (an increase of 5%),over 92,000 pigs (an increase of 40%) and over 9,000 nonhuman primates (including a decrease of 8% in new and world old primates but an increase of 86% in Prosimians). 56% of old world primates are still imported from non-EU countries and include wild-caught animals and their offspring.
• The use of animals includes an increase in the use of animals for fundamental biological research of 13% to 4,575,054 animals, an increase of 13% to 478,511 in the use of animals for the production and quality control of products and devices for veterinary medicine. There was also a sharp increase in the use of animals for food additives from 34,225 to 54,164 and 319,117 animals were poisoned to death in studies like the Lethal Dose 50, which included 354 dogs.
Copyright © Quinessence Aromatherapy Ltd 2010