Simplicity Ceramic Burner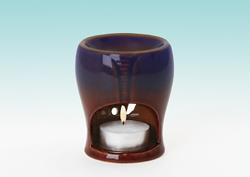 Despite the interest in hi-tech electronic atomizers to vaporise essential oils for aromatherapy, it seems there is still a demand for traditional aromatherapy burners that require only a humble tea-light candle to power them! So to fulfill the request of those who have been asking for something a little more retro, we have added a new traditional-style burner back into our vaporizer collection.
Our 'Simplicity' burner features a simple timeless design with a complementary two-tone colour combination that will look fabulous absolutely anywhere in your home. This attractive hand-made burner also features a one-piece design which means you won't have to worry about dropping the lid on the floor either!
Because they are hand-made, the dual colour effect varies with each burner which adds to their charm, since no two are alike. A burner with individuality rather than a 'produced by a factory mold' is a request we often get from burner lovers.
Simply add your favourite Essential Oil, Mood Enhancer or Synergy, light the tealight, make yourself comfortable, and prepare to relax in waves of beautiful aroma. Supplied complete with a Tealight candle and instructions for use.
If you prefer a more traditional style of vaporiser, the Quinessence Simplicity Burner could have been made just for you. And best of all, the price is good too!
Copyright © Quinessence Aromatherapy Ltd 2013