Aromatherapy Moisturising Bath Bombs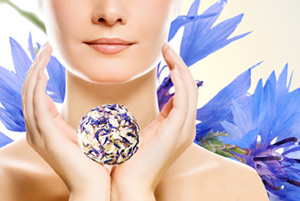 Although several customers had requested them recently, we were not entirely convinced that our range of Bath Bombs would prove to be very popular when we introduced them back in October.
Boy, were we wrong!
They have proven to be phenomenally successful, with our first stocks selling out within just 5 weeks, and during this time we received emails from customers demanding an even wider range to choose from!
Seems that with the tight squeeze of the credit-crunch, these fizzy little fella's will make great little presents or 'stocking fillers' for friends and family – and all at a very low price too.
So this month we are introducing our second line, the Moisturising Bath Bomb Range with essential oils and botanicals. This collection of 6 different luxurious bath bombs is entirely hand-made and packed full of botanical goodies to totally pamper you from head to toe.
Not only does each luxurious bath bomb contain a fragrant blend of pure essential oils to help you de-stress, relax and chill out, but they are further enriched with a creamy moisturising blend of deeply nourishing Shea Butter and Cocoa Butter to care for your skin.
Just drop one of these effervescent, moisturising Bath Bombs into your tub and let the wonderful fragrance transport you into another world whilst the miraculously moisturising properties of Shea Butter gets to work softening and conditioning your skin, leaving it silky smooth. Guaranteed to bring you a totally unique, relaxing and revitalizing bath-time experience!
Every Moisturising Bath Bomb is hand rolled with botanical leaves or petals and is individually gift-wrapped in beautiful iridescent film-wrap to make an ideal present for someone special.
See the full range of our Aromatherapy Moisturising Bath Bombs . . .
Copyright © Quinessence Aromatherapy Ltd 2008